Presale Condos and New Developments in Langley BC
New developments in Langley you see above are updated weekly for 2023.
Above is an interactive map of all new developments in Langley, BC followed by a grid of all available projects. This includes condos as well as new Langley townhomes.
Discover the Latest New Homes in Langley BC
Langley is witnessing a surge in new developments, making it an ideal location for those interested in selling in Langley or buying new homes in Langley BC. Whether you're looking for a condo for sale in Langley or new townhomes in Langley, our comprehensive list below covers the most recent launches.
Langley is witnessing a surge in new developments, making it an ideal location for those interested in selling in Langley or buying new homes in Langley BC. Whether you're looking for a condo for sale in Langley or new townhomes in Langley, our comprehensive list below covers the most recent launches.
Langley City & Township Information
The City of Langley was established on March 15, 1955 when it became a separate municipality from the much older Township of Langley which dates from 1827 when the Hudson's Bay Company founded Fort Langley.
Langley City & Langley Township together are bordered by Surrey to the west and by Abbotsford to the east and shares an international border with the United States to the south. Maple Ridge and Pitt Meadows are to the north of Langley across the Fraser River.
The Enduring Popularity of New Homes in Langley British Columbia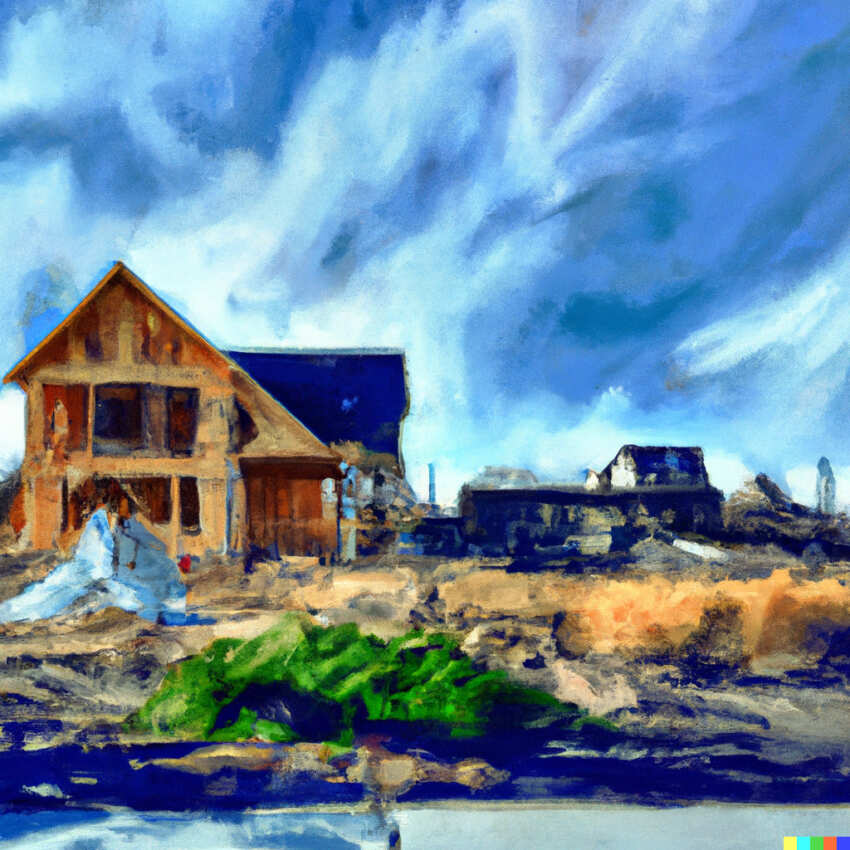 Langley has long been popular with new home buyers and has gone from being predominantly rural to a rapidly developing suburban city over the past few decades with many commuting to points west including Downtown Vancouver.
The arrival of the Trans-Canada Highway in the 1950's started the area on the path of suburban commuter development with new homes in Langley on large lots for baby boom families looking for inexpensive housing. Langley also saw low density commercial development primarily along the 200th Avenue and Fraser Highway.
Why are New Developments in Langley so Popular?
In recent decades, increasing home prices impacted affordability and spurred local governments to increase the housing supply in Langley.
This was done by densifying the city and allowing large scale new townhouse and condo developments in Langley, which were primarily sold as pre-sales. This urbanization and densification of Langley along with significant urban upgrades of new amenities, especially with respect to health, infrastructure (Skytrain is coming to Langley), safety and sanitation as well as Trinity Western University in Langley Township has made the area popular with new home buyers. Downtown Langley, Aldergrove Town Centre, Willoughby Heights, and along Fraser Highway and 200th Street have also seen a large amount of these new Langley condos and townhomes.
Relatively inexpensive housing options in Langley area also a big draw and the area has seen steady and consistent population and job growth. This population growth and urban development provide great purchase opportunities for real estate investors as well as fantastic lifestyle options for aspiring homeowners. The 2021 Census shows the population of the City of Langley is currently 28,963 with a 11.9% increase since 2016 and the Township of Langley at 132,603 people in 2021 has seen a 12.6% increase in population since 2016.
Due to the factors above, Langley has seen significant price increases over the past few decades and this appreciation is expected to continue. For more detail on pricing information for new developments in Langley as well as other properties, please check out the Fraser Valley Real Estate Board Statistics that we update monthly. Our clients who have purchased presale condos or new townhouses in Langley have also seen good rental returns that have increased with inflation and in some case at a higher rate.
Langley Highrise Presale
The concept of a Langley highrise presale are a relatively new development. Typically presale condos in Langley are wither townhouses or mid rise concrete or wood frame buildings. This changed with the development of the Towers at Latimer Heights and we expect to see more Langley high-rise presale condos.
Where are New Developments in Langley Located?
Most presales Langley offers are located in neighbourhoods such as Willoughby, Walnut Grove, Langley City & Yorkson.
These areas have seen large an amount of medium density new pre-sale townhouse and condo developments in the last decade which continues.
Langley high rise presales are starting to proliferate near the upcoming Skytrain Stations that are coming soon. These Langley Skytrain presale condos tend to be walking distance to stations, shopping, parks and are part of the expansion of Vancouverism into the suburbs.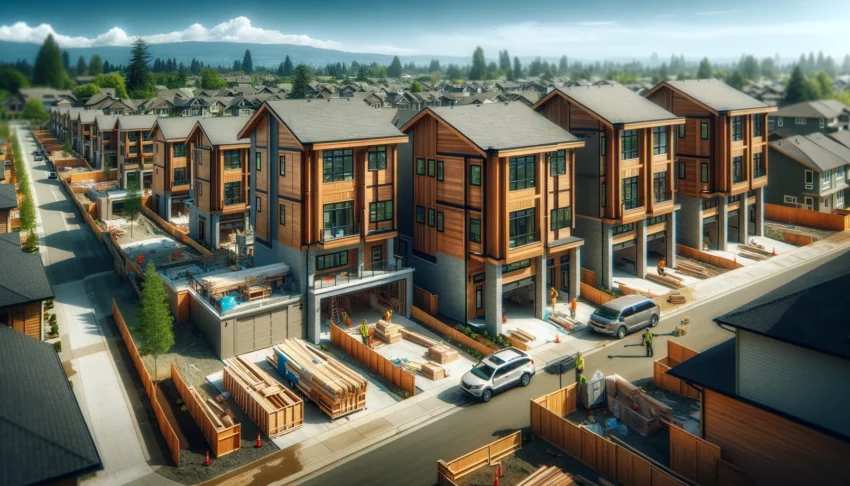 Vancouver New Condos can help with all New Townhomes Langley Offers
Langley continues to offer relatively good value for money with high-quality new development condo and townhouse options that tend to be larger and less expensive than what can be found further west in Metro Vancouver. Much of the new development properties in Langley are actually ground based townhouses rather than condos.
The new townhomes Langley BC offers tend to be quite large, usually 2-3 bedrooms minimum often with their own enclosed garages. Almost all are a minimum size of 1000 square feet and up and tend to be stacked with a street based entrance on the lower level and then either one or two levels above that with the bedrooms in the upper levels.
Please note – Vancouver New Condos can help with all presale and new townhouses Langley BC currently has for sale. Please contact us for more information on how we can help. Please see more information on presale townhomes in Langley below.
When are Presales in Langley Completing?
Langley has presale condos and presale townhouses that will be completing in 2024, 2025, 2026 and beyond. In the current situation with higher inflation and interest rates we are finding investors are looking for presale townhouses and new condos in Langley with later completion dates. Owner occupiers are often more focused on what their personal lifestyle needs are.
Please contact for details for new developments in Langley completing in specific years.
New Developments Langley Interactive Map
The map you see above has all of the preconstruction homes both condos and townhouses Langley has to offer currently. These new developments are updated for 2023. To zoom in on this Langley presale map, either pinch on your smartphone screen or use the zoom in and out buttons on the bottom right if you are on a laptop or desktop computer. See photo above.
Hover over the yellow icons to get cursory information on the new development you are interested in or double click on the icon to get get detailed information. To see Google Street View of the areas around the presales please feel free to drag and drop the little yellow human icon on bottom right into any there on the map of interest. We have circled these icons above for ease of use. Feel free to reach out to us with any questions on using this Langley New Development interactive map.
All the new developments in Langley above are updated for 2023 and we have floor plans and pricing available upon request.
Amenities and New Home Developments Langley offers create Community!
Great developing urban amenity supports the vibrancy of the new developments Langley has to offer. Today, as the city continues to evolve, it offers citizens all the amenities of a major urban hub that are conveniently located near all the new developments in Langley:
Upscale shopping at Willowbrook Shopping Centre and Langley Outlets
Langley Memorial Hospital is a large stable employer creating demand for both rental units and new homes.
Diverse dining options at top restaurants in the city and fresh, local farmer's markets
Leading education at Kwantlen Polytechnic University
Entertainment options at Langley Events Centre, Cascades Casino Hotel & Convention Centre and several bars/pubs in the city
Attend one of many events at Coast Hotel and Convention Centre
Participate in recreational activities and community events at Timms Community Centre and Douglas Recreation Centre.
For avid readers there are 7 available FVRL Libraries in the city.
Take advantage of the outdoors and enjoy over 346 acres of parkland, ranging from small neighbourhood playgrounds to large parks with trails, wildlife & sports fields/equipment.
The city is served by Translink and offers multiple bus/community shuttle routes throughout the Lower Mainland.
Langley makes these urban amenities easily accessible to all its residents, but still continues to keep its tight-knit community and unique heritage feel at the forefront of its community.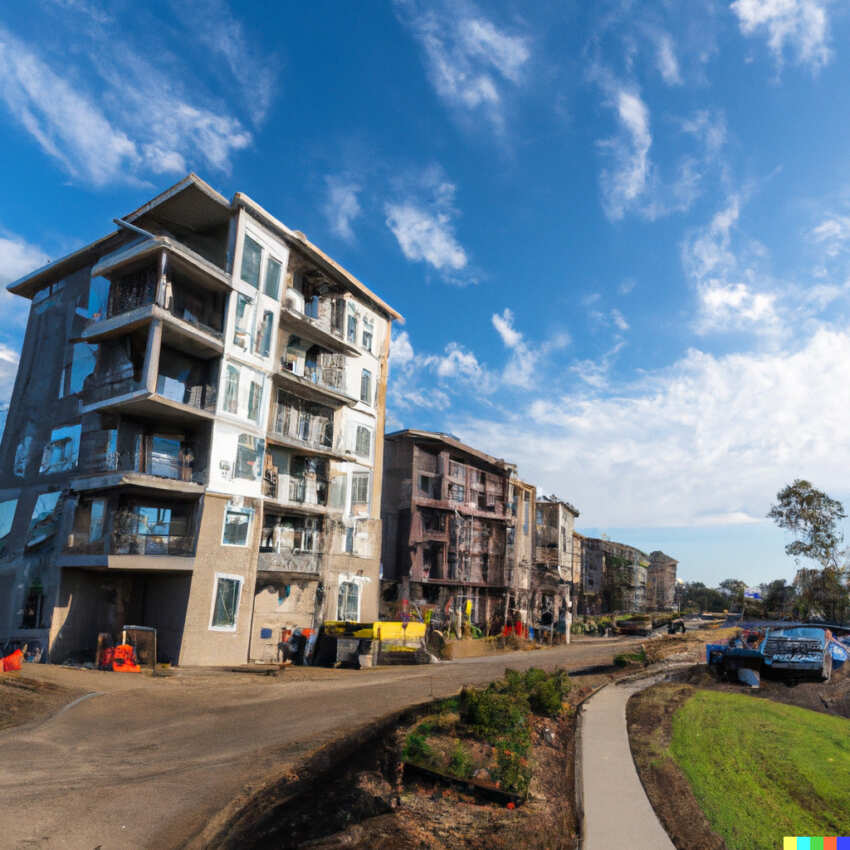 Langley New Developments FAQ's
Vancouver New Condo also has lots of basic information on buying presale condos at new developments in Langley and across British Columbia. Here are some frequently asked questions:
What does Vancouver New Condos do in relation to Langley New Development Projects?
Vancouver New Condos assists buyers and sellers with the purchase of presale condos, new homes, and townhomes in Langley and throughout BC.
We provide early VIP access to Langley new developments.
We guide and advise throughout the entire purchase process in Langley.
What does Vancouver New Condos NOT do?
We do not provide information or advice to people working with other Realtors.
We do not offer strata or rental management services.
We do not develop or build properties.
Are presale condos in Langley covered by a New Home Warranty?
What is a presale condo in Langley?
What is the 7-day rescission period for Langley preconstruction condos?
It's a protection for presale condo buyers in BC, allowing them a period of seven days to rescind their purchase agreement without any penalties. Check out our detailed article on the 7 day rescission period.
What's it like living in Langley and the Fraser Valley?
What are the advantages of buying presale condos in Langley?
Langley new condos for sale offer various benefits, including the ability to customize finishes, potential price appreciation before completion, and brand-new amenities and features. Please see our detailed article on the pros and cons of buying a presale condo.
What's the difference between presale and resale properties in Langley?
Presale properties are those sold before completion, while resale properties are existing homes that have been previously lived in.
I'm unfamiliar with some real estate terms related to presale condos. Where can I get clarification?
How can I stay updated on the real estate market in Langley?
Where can I find a list of Developers Active in Preconstruction Condos in Langley?
We have a detailed page of Developers, many of whom are actively bringing new preconstruction condos and townhouses to market in Langley. For each developer, expect to find a write up on them as well as links to the pre sale condo projects they are developing or have developed. Please note these developers are also active across Greater Vancouver and beyond.
Does Vancouver New Condos help with Presale Condo Assignments in Langley?
Yes! Vancouver new Condos can help with assignment sales of new construction homes in Langley. Aside from helping with the purchase of presales in Langley, we can also help the owners of presales that are not yet constructed to sell those presales as well as support buyers who want to purchase assignments of contract in Langley. We can help with the assignment of both a new townhome as well as a condo. To learn more about how these transactions work, please see our detailed article on Understanding Condo Assignments in BC's Presale Market. Also if you looking for an assignment to purchase or would like to see what we have listed as well as all assignments currently on MLS, please have a look at our page that has Assignments for Sale.
What is The Disclosure of Representation Trading Services DORTS Document?
When buying new construction homes in Langley, buyers will undoubtably come across the The Disclosure of Representation in Trading Services DORTS document, mandatory in BC since 2018. The document aims to foster transparency in real estate transactions by delineating the agent-client relationship, along with the respective rights and obligations, a crucial aspect for presale condo purchasers. It is mandatory for Realtors who represent buyers and sellers in British Columbia to provide this document to their clients. However, clients are under no obligation to sign it.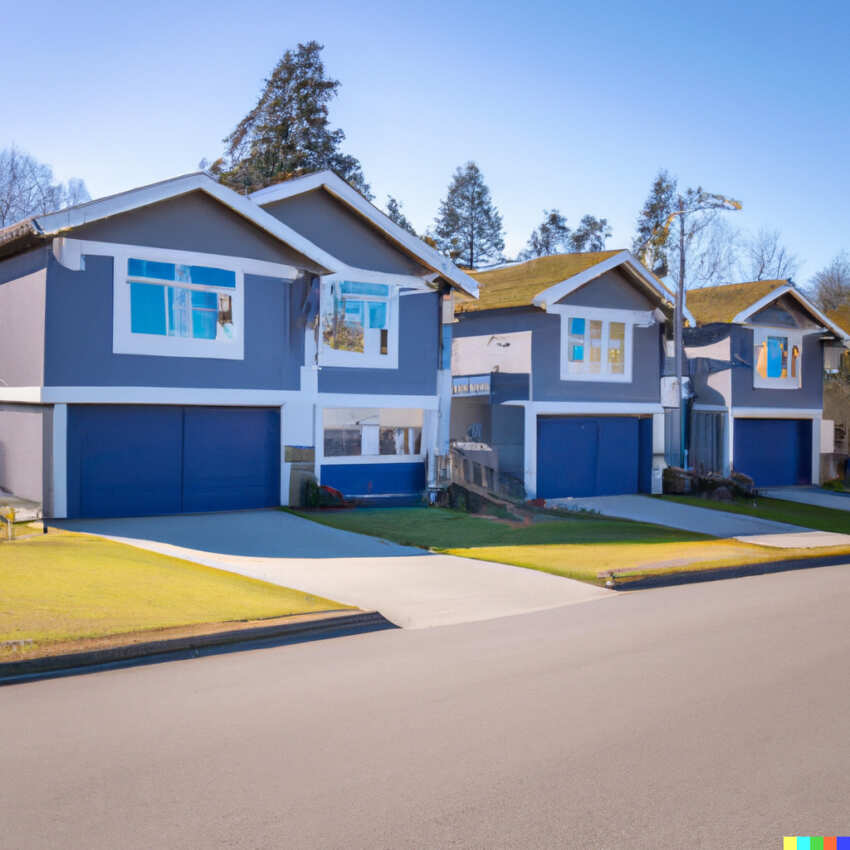 Presale Townhomes Langley 2024
Langley offers a wide selection of presale townhouses. The presale townhomes Langley offers tend to be wood frame and ground oriented with their own front door at ground level.
Townhouses in Langley almost always include parking and sometime offer the option of getting a second parking stall. Langley presale townhouses are popular with those who want a new house, but may not want the expense of a new single family home.
We at Vancouver new condos specialize in new construction townhouses in Langley, so please do reach out if you have any questions.
New Developments Langley – MLS Listings
We also can help with the new homes Langley has to offer that are listed on MLS or Realtor.ca. On that page called: new developments Langley, you can find all properties in Langley that are newer than one year old currently listed on MLS as opposed to being presales.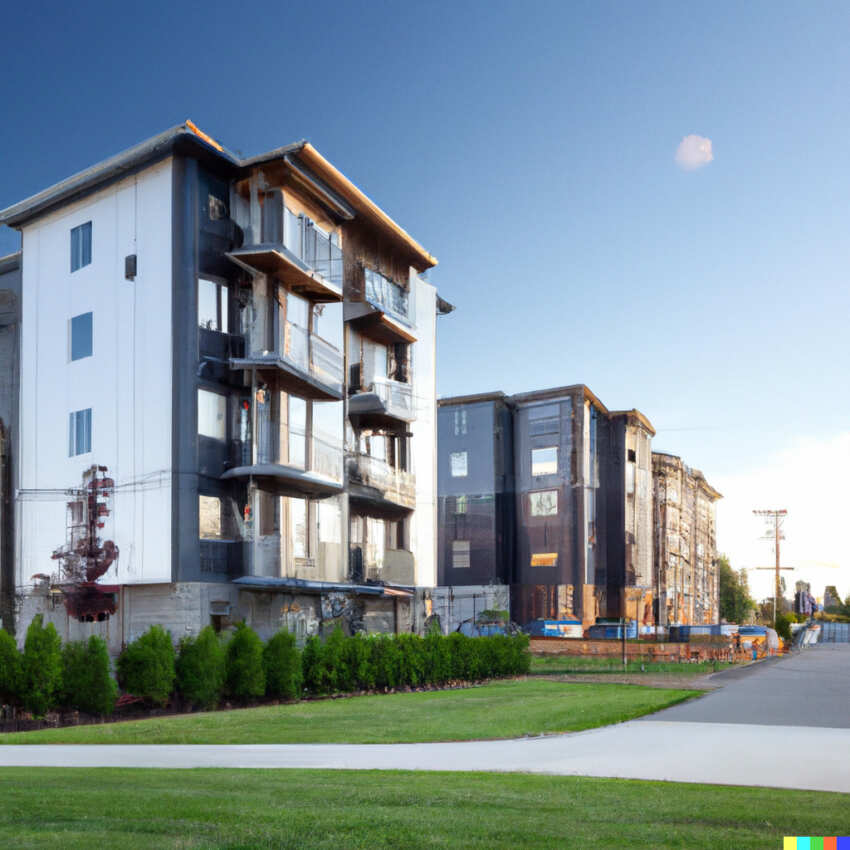 Langley New Condos for Sale – Getting Advice
We are always looking to help those looking to buy a new condo in Langley. We have specialist Realtors for every presale Langley has to offer available anytime to help with information on projects, pricing, floor plans, and neighbourhood information.
Feel to call us at 604-332-9367 for pricing, and floor plans information on new townhomes in Langley as well as pre-sale condos or please sign up for our Langley VIP presale email list.
Our email list is particularly helpful when looking for Langley new condos for sale. We send emails on new development projects in Langley before anywhere else on a weekly basis. Typically we send out projects a few months to a few weeks before sales begin and can get you early access to these projects.
Langley Presale Condos FAQ
What Services Do Vancouver New Condos Offer for Langley Presale Condos?
We specialize in the purchase and sale of Langley presale condos and preconstruction properties, providing early VIP access and suite selection advice for both investment and personal use properties across BC.
Are Strata Management Services Available for Langley Townhouse Presale?
We do not provide strata management services for Langley townhouse presales, but we can introduce you to reputable rental management companies for these needs.
Which Areas Does Vancouver New Condos Cover, Including Presale Condos in Langley BC?
Our coverage extends across the Fraser Valley, Greater Vancouver, Vancouver Island, The Okanagan, and Victoria and focusing on presale condos in Langley and surrounding areas.
What Is a Presale Condo in Langley, and How Does It Differ from New Condos Langley?
A Langley presale condo is purchased before completion, offering unique opportunities compared to ready-to-move-in new condos in Langley.
How Do Presale Condo Assignment Sales Work in Langley?
In a Langley presale condo assignment sale, the original buyer transfers their purchase rights to a new buyer before the completion of the property.
What Is the 7-Day Rescission Period for Presale Townhomes in Langley?
The 7-day rescission period offers protection for buyers of presale townhomes in Langley, allowing withdrawal from the purchase within seven days under the Real Estate Development Marketing Act. Please note – this rescission period also covers all the presale condos Langley has to offer.
Are New Townhomes Langley Covered by the BC New Home Warranty?
Yes, presale condos and new townhomes in Langley are covered by the BC New Home 2 5 10 Warranty Program, providing important protection for buyers.
I want more investment focused options that I am not finding among the new developments Langley offers. What do I do?
Langley does have great options for investors, but much of the new developments Langley offers are intended for owner occupiers. A good option for our client who are looking for more investor grade presale options are new developments Surrey offers. Surrey has far more investor focused concrete high rise developments with studios, one bedrooms, and small two bedrooms near Skytrain that have been popular with our clients.
What Is the DORTS Document for Townhomes for Sale Langley?
The Disclosure of Representation in Trading Services (DORTS) document is crucial for transparency in transactions involving townhomes for sale in Langley. This document is used for the purchase and sale of all residential properties across BC.
What Are the Pros and Cons of Buying Langley New Condos?
There are various pros and cons to consider when buying new condos in Langley, which we detail in our article.