New Developments Victoria BC
Please see the new condos Victoria BC has to offer on the map above. The Victoria presales on this page are updated weekly for 2023. 
Information on Victoria, British Columbia
The City of Victoria is the Capitol of the Province of British Columbia. It is the metropolitan centre of the Greater Victoria area, which is located on the southern tip of Vancouver Island..
Surrounded by the Pacific Ocean on three sides and forest to the north and east, the City of Victoria has all of the comfort and quality of life in Greater Vancouver but with a slower, quieter pace of life and significantly lower property prices.
A Brief History of Victoria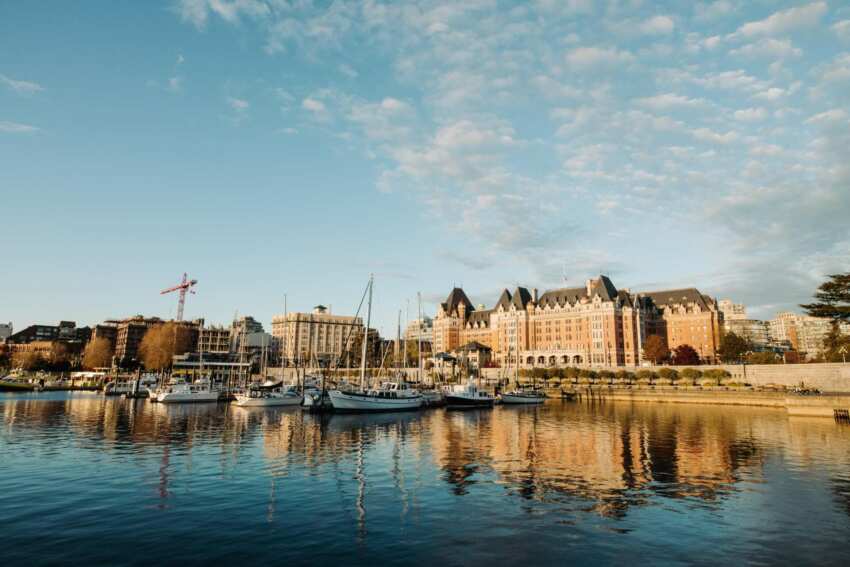 The city was named after Queen Victoria and is one of the oldest cities on the Pacific coast and was founded in 1843.
It has retained a large number of its historic and architecturally significant buildings surrounding the Inner Harbour.
The two most famous landmarks are the Parliament Buildings (finished in 1897 and home of the Legislative Assembly of British Columbia) and the Empress Hotel (opened in 1908).
New Condos Victoria BC
As mentioned above, Victoria is BC's capital and the central city of the Greater Victoria region that incorporates the core communities of the West Shore and the Saanich Peninsula. The core communities share Victoria's great climate, amenities and livability but with lower real estate prices. The City of Victoria has a good selection of presale condo developments, but many of the new condo developments in the Victoria area are located in these core communities.
The West Shore communities of Langford, Esquimalt, & Colwood have seen a huge amount of new condo development due to a pro-development political culture and a large amount of developable land. Langford at present, has the largest selection of presale condo developments and which also tend to be less expensive than in other areas of Greater Victoria. Saanich also has quite a few new condo developments for similar reasons. We can help with presales across the Victoria region.
Why is Victoria Good Investment for Presales and New Condos?
From a real estate investment perspective, especially for new condo developments, Victoria is widely seen as a safe bet as it has a highly stable economy.
This is largely due to the large and growing government presence compared to Vancouver and the rest of British Columbia. Victoria is British Columbia's capital city with many stable high, paying civil service jobs in the city.
The Royal Canadian Navy has its West Coast headquarters and large naval base in the Victoria West Shore suburb of Esquimalt. Victoria is also the location of several high-quality universities and other post-secondary institutions which offer more stable employment but are also a draw for high-quality tenants. The city and region also has a thriving tech sector that has generated many well-paying jobs.
The Victoria region has also seen significant population growth creating demand for new housing. The population of the Greater Victoria Census Metropolitan Area was 367,770 in 2016 and increased by 8% by 2021 with a population of 397,237 representing an 8% increase according to the 2021 census.
Victoria New Condos are Popular with Retirees & Snow Birds
Victoria and Vancouver Island are also popular with retiree's and others who like the mild climate (warmer, less rain, and more sunshine than Vancouver) compared to the rest of Canada (Alberta in particular) and affordable housing compared to the Vancouver area.
With Victoria's stability, prosperity, climate, and natural beauty, the development industry has created a wide variety of new home and presale condo options in the Victoria area. Our clients who have purchased in the area have been very happy with the capital appreciation, rental revenue, as well as the joy of living in a new home these options offer.
We also Cover All New Townhouse Developments Victoria BC Has to Offer
If you're seeking more living space than a typical condo provides, or if high-rise living isn't your preference, we've got you covered. Our services extend to include the purchase of all new townhomes Victoria BC has to offer. We provide a comprehensive range of options in both the city and its surrounding suburbs. Whether it's the vibrant urban life or serene suburban living you're after, our dedicated team is here to guide you through the entire process of finding your ideal new townhome in Victoria, BC
Victoria Presale Specialist Is Available to Help
Vancouver new condos is currently accepting new clients for presale condos across Greater Victoria.
Dane Kingsbury is Vancouver New Condo's specialist for new condo developments in Victoria, BC and can help you with purchasing a presale property as well as assisting with the purchase and sale of existing properties including condos, townhouses and sing family homes.
Dane can also give referrals for other real estate professionals, such as home inspectors, lawyers, notaries, and much more!
Should you sign up for information on presale developments in Victoria, Dane will be in touch to help and is a fully licensed BC Realtor in good standing with the Victoria Real Estate Board.
New Condo Developments in Victoria BC FAQ
1. Why should I consider buying a new development in Victoria?
Victoria, known as the "Garden City," due to its mild climate and offers a unique blend of historic charm and modern urban development. New developments in Victoria BC are popular due to good price appreciation and rental return. This mix of climate, lifestyle, and good investment returns have made Victoria and its suburbs a compelling option for new home buyers.
2. Are there specific regulations for new developments in Victoria BC?
Yes, the City of Victoria has specific zoning bylaws, building codes, and development guidelines. It's crucial to consult with the city's planning department or Vancouver New Condos for detailed information on any Victoria new development home you are thinking of buying.
3. How can I find new developments available for purchase in Victoria?
This site has all the new condo developments Victoria BC has to offer above updated weekly. We also have pricing, floor plans, and information on incentives for new condos in Victoria and across the Capital Region. To get the latest info on new homes, we have an exclusive VIP email list for presale condos in Victoria that we send new projects to on a weekly basis. To join our new condo email list, please click on the yellow button above.
4. What types of new developments are typically available?
Victoria offers a diverse range of new developments, including condos, townhouses, single-family homes, and mixed-use buildings. Above you will find presale condos and townhouses in Victoria primarily.
5. Are there incentives for purchasing new properties in Victoria?
Developers often offer promotional incentives for early buyers. As well, developers will often offer incentives on presales that they need sold or are left over after an initial sales push.
6. How do pre-sales work for new developments in Victoria?
Pre-sales allow buyers to purchase a property before its completion. An upfront deposit is typically required, with the balance due upon completion.
7. What should I consider when choosing a developer?
Investigate the developer's reputation, past projects, and reviews. We can also advise on the developers to avoid in the Victoria presale market.
8. Can I customize my unit in a new development?
Depending on the developer and construction phase, buyers might have options to select finishes, layouts, or upgrades for their new construction home in Victoria.
9. What warranties are provided with new developments in Victoria?
10. How does buying a new development differ from purchasing a resale property?
With new developments, especially pre-sales, you might be buying based on plans or show homes. There can be longer wait times before move-in, and potential additional costs for customizations.
11. Are there extra costs associated with buying a new development?
New properties might be subject to GST. There could also be additional costs for upgrades, parking, or storage units.
12. What is a Presale Condo?
A presale condo is a unit that is purchased before the construction or completion of the new home development. To learn more about this in detail, please have a look at our page on what is a presale condo.
13. What are the transportation options in Victoria?
Victoria offers various transportation options, including major freeways, public transit (buses), cycling paths, and ferries. The city is also pedestrian-friendly, especially in the downtown core.
14. What is the 7 Day Rescission Period when buying a New Development Home in Victoria?
The 7 day rescission period gives presale condo buyers in Greater Victoria and across BC the right to kill a deal for up to seven days after an accepted offer. For more details on this important right when buying a presale, check out our page on the 7 day rescission period.
15. Can I rent out my property in a new development?
In late 2022, the BC government removed most rental restrictions on properties across the province. That said, there are still regulations, bylaws, and strata rules on how a new condo owner can rent out their property. Rental policies can differ between developments and each of the cities and municipalities in the Capital Region have their own policies on rentals. Review the strata bylaws or developer guidelines as well as local laws to what is and is not permitted in terms of rentals.
16. Is there a Glossary for New Developments Victoria BC has to Offer?
Yes!
We know that the jargon and language around the purchase of a home at the new developments Victoria BC has to offer and beyond can be confusing. With this in mind, we have compiled a list of real estate terms for presale condos to help with this.
17. Is Downtown Victoria Safe?
Yes.
Downtown Victoria like other urban centres across Canada has seen a rise in homelessness and those with mental health and addiction issues. That said, the area is still a very safe and walkable area with lots of new presale condo and other housing options. For more information, please see this link to Victoria Police Crime Map to get the most up to date picture of the security situation in Downtown Victoria.
18. Where can I find information on Victoria Townhomes?
We also cover new townhomes in Victoria and can help with the purchase of these. To get more information on new townhouse developments in Victoria, please see the listings above to get pricing or floor plans or get in touch with us at the number above.
19. What are the names of the neighbourhoods in Victoria?
The neighborhoods within the city limits of Victoria, British Columbia, are: Burnside, Downtown, Fairfield, Fernwood, Harris Green, Hillside-Quadra, James Bay, North Park, Oaklands, Rockland, Jubilee, and Victoria West (often referred to as Vic West). We cover all of these neighbourhoods for your new construction property search. Please get in touch to find out how we can help.
20. Where can I find out about other new condo developments Vancouver Island offers?
Aside from Greater Victoria the only other areas we cover in terms of new condo developments Vancouver Island offers, is Nanaimo. Please have a look at our page with Nanaimo new condos.
21. What's it like living in Victoria?
Living in Victoria has a ton of upsides. To get a better feel for life in Vancouver Island's biggest city and BC capital region, have a look at our article on Living in Victoria with Dane Kingsbury.
22. Does Vancouver New Condos cover rentals in Victoria?
No.
Vancouver new condos only helps with the purchase and sale of properties in BC. If you buy a property with us, we can definitely refer you to a rental manager who can help you rent out the property you have purchased with us.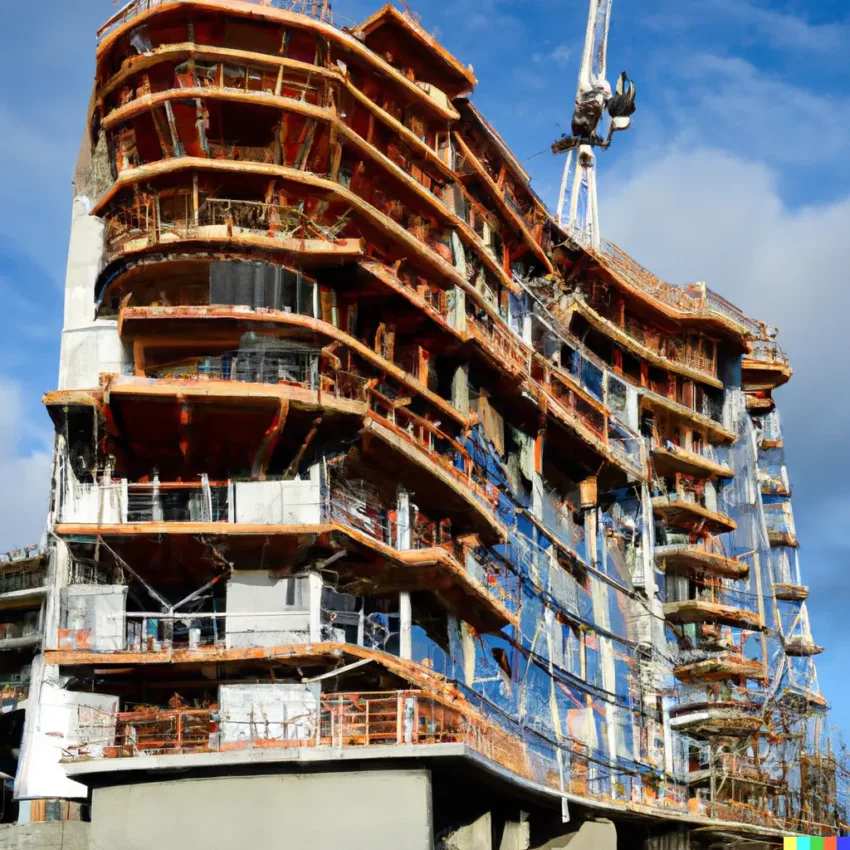 The City of Victoria's Amenities
Population: 91,867 but serves as the metropolitan core for the region of Greater Victoria with 397,237
Capital City of British Columbia
Incorporated on August 2, 1862
Over 3 million visitors annually, according to Tourism Victoria
Average of 2,183 hours of sunshine each year
The average rainfall is 66.5 centimetres per year
1,600 signature hanging baskets displayed each summer
Victoria is known as the City of Gardens, with its perfect climate for growing. The city has an annual flower count of over 3.4 billion.
Victoria's Chinatown is the oldest in Canada, and Fan Tan Alley is the narrowest street in Canada.
Victoria is one of the top 15 Friendliest Cities in the world.
Canada's Best City to Live in for Women,
Seventh Best City and Second Best Small City in the world (by international travel and tourism magazine, Condé Nast).
As the provincial capital, the Parliament buildings have bright lights nightly.
One of the most bike-friendly cities in Canada. With hundreds of kilometres of cycle paths, including the Galloping Goose Regional Trail.
Half a million cups of tea are served annually at the Fairmont Empress.
Local Farming Vancouver Island has over 2,800 farms, with nearly 1,000 in the Greater Victoria Region and 700 in the Cowichan Valley.
The world's tallest totem pole is in Victoria's Beacon Hill Park.
Vancouver Island is one of Earth's best cold-water diving destinations, recognized by National Geographic and the Jacques Cousteau Society.
In the waters off Victoria, there are three resident pods of orca (killer) whales totalling 76 whales.
The Art Gallery of Greater Victoria has the most fabulous collection of Asian art in Canada.
There are over one million annual visitors to Butchart Gardens
The Royal BC Museum is one of the foremost cultural institutions in the world.