New Developments Squamish Presale
Our list of Squamish new developments and presales is updated weekly for 2023, ensuring you have the most recent information at your fingertips.
Squamish – A Hub for Presales and New Developments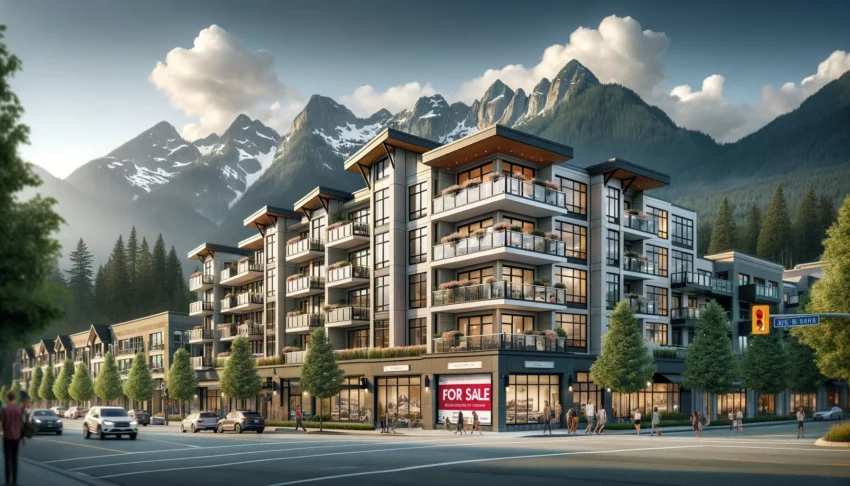 Often playfully dubbed "Squampton," Squamish stands out as a picturesque, vibrant, and rapidly expanding community, just 45 minutes away from Vancouver. It's an ideal place for Squamish presale condo projects and fresh construction opportunities.
Nestled beside Howe Sound and enveloped by the forested Coastal Mountain range along the Sea to Sky Highway, Squamish presales present an array of new construction condos and townhouses. These Squamish new developments cater to diverse preferences, from urban chic to serene suburbia.
Adventure Capital of Canada
Squamish has some of the best outdoor recreation amenities in the world, including mountain biking, kiteboarding, snowboarding, hiking, rock climbing, kite & windsurfing kayaking, and wildlife viewing, among others
Squamish is the "Adventure Capital of Canada" and has views of and easy access to some of the most beautiful natural scenery in the region.
From kitesurfing to hiking to mountain biking, coupled with more affordable housing than either the Vancouver area to the south or Whistler to the north, Squamish has proven very popular in recent decades.
Squamish Location
Squamish has a natural setting from the mountains and lakes to the wildlife, this region has it all. Pretty much all Squamish new developments will have a mountain view and easy access to nature.
Squamish offers easy access to Downtown Vancouver to the south which takes around 45 minutes on the recently upgraded Sea to Sky Highway as well as Whistler which is about 30-40 minutes to the north.
There are landmarks to visit all year round. It is a prime rock-climbing destination, the Stawamus Chief, which towers 600 m (~2,000 ft) above Squamish and offers hikes with breathtaking views.
It is the 2nd tallest freestanding granite monolith in the world.
Porteau Cove is a provincial marine park with man-made reefs, a cliff dive, three sunken ships, and other wrecks ideal for divers of all levels.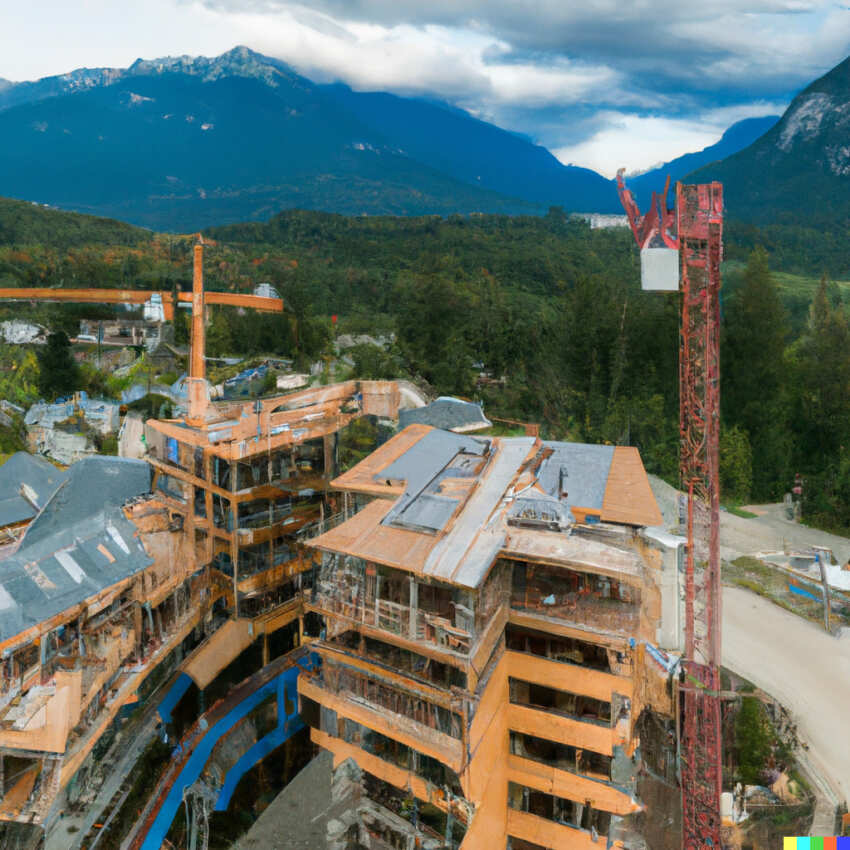 Squamish New Developments: A Blend of Modernity and History
Over recent decades, before gaining recognition for its vibrant squamish new developments, this town has undergone a significant transformation.
Prior to contact with Europeans, members of what is now the Squamish Nation lived in the area for thousands of years.
Originally a sleepy lumber and mining town with a primarily local population working mostly in the local industries to a world-class outdoor activity mecca and bedroom community for greater Vancouver and Whistler with a large amount of new home-building.
Squamish doesn't forget its past and has a wide variety of museums and opportunities to explore local industrial history.
Railway fans can check out the West Coast Railway Heritage Park, 'Home of the Royal Hudson' and Western Canada's most extensive collection of heritage railway equipment dating back to 1890.
Another historic site is the newly transformed Britannia Mine Museum.
Squamish Population Growth = New Developments Squamish
Squamish is one of the Vancouver region's fastest-growing communities, with a 22% increase in population from 19,497 residents in 2016, increasing to 23,819 in 2021 according to the most recent Census data.
Many of the newcomers are families and young people looking for affordable housing options that the new developments Squamish offers with easy and quick access to nature and outdoor adventure. Squamish new home options are also some of the most affordable in Metro Vancouver, giving the lifestyle similar to North Vancouver in the past with price points more in line with Maple Ridge or Langley.
This increase in housing demand was largely facilitated by the 2010 Winter Olympic improvements to the Sea-to-Sky Highway 99, making it far easier to commute to the Lower Mainland for work.
This popularity and resulting population growth has resulted in housing prices in Squamish have rising 32.5% over the last 3 years at the time of writing in late April 2023.
Houses in Squamish have increased in price from around $685,000 to around $1,075,000 on average over the last three years.
To get the most up to date and detailed Squamish home price information, please check out the REBGV Stats which we update monthly.
Wide Variety of Squamish New Condos
With its vast appeal to homebuyers, proactive local governance, and abundant land for construction, this community promises a plethora of Squamish presale opportunities and new developments for potential residents.
Squamish new condos and townhouse options are located throughout the town, including Downtown, along the Oceanfront, Garibaldi Highlands, and along the Sea to Sky corridor.
Downtown Squamish new developments offer walkable urban amenity mostly in the form of condos.
Oceanfront Squamish will have a large variety of new development condos and townhouses with fantastic water and mountain views coupled with the waterfront lifestyle.
Other areas of Squamish have a wide selection of pre-sale condos and townhomes in a broad range of sizes and configurations not seen in other communities that can fit a variety of home buyer needs.
Squamish New Developments & Presale Investment Outlook
Squamish stands out as an exceptional prospect for those keen on squamish presale options and new development investments.
Widespread popularity with home buyers due to the increasing appeal of the outdoorsy lifestyle and a wide range of Squamish new condo, townhouse, and new home options coupled with unprecedented population growth in Canada should result in ongoing price appreciation for the area.
New Homes Squamish are Foreign Buyer Tax Exempt
Furthermore, unlike the other popular areas of British Columbia, existing properties and Squamish new developments are not subject to British Columbia's 20% Foreign Buyers Tax which should provide a wider market going forward.
Our clients who have purchased new condos in Squamish have seen significant price appreciation as well as good increases in rental income.
We predict that Squamish should see continued price and rental appreciation going forward du to the factors mentioned above and we are generally bullish on new condos in Squamish.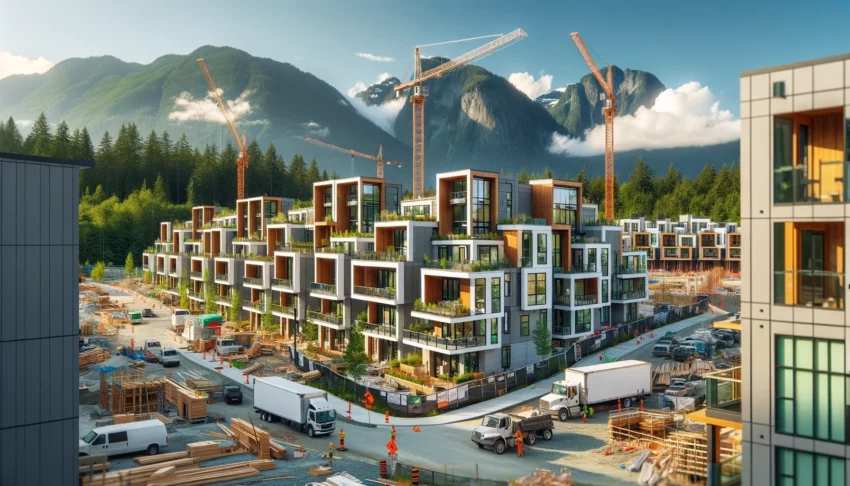 Vancouver New Condos Can Also Help with New Squamish Townhomes
Please keep in mind that we can assist in the purchase of new Squamish townhouses as well as presale condos. Much of the new developments Squamish offers are actually townhouses rather than condos, particularly outside Downtown Squamish. Popular with the new families moving to the area, these new Squamish townhomes are slab on grade (meaning they have no basements due to the area's high water table) and are sometimes stacked or on their own with a small yard.
FAQ for Squamish Presale Condo Projects
1. What does Vancouver New Condos do in relation to Squamish Presale Condo Projects?
Vancouver New Condos are licensed Realtors specializing in assisting buyers and sellers with presale condos throughout British Columbia, including Squamish.
They offer early VIP access to Squamish presale condo projects.
They guide and advise throughout the entire purchase process, from suite selection to documentation.
Our Specialists in Squamish developments are Zenobia Wilson and Reinoud Daniels who will follow up with you when you sign up for information.
2. What areas does Vancouver New Condos cover?
Vancouver New Condos covers various regions in British Columbia, including Squamish.
3. What is a presale condo in Squamish?
A presale condo is a property that is available for purchase before its construction is completed. Vancouver New Condos specializes in helping clients purchase these types of condos in Squamish and other parts of British Columbia.
4. Are presale condos in Squamish covered by a New Home Warranty?
Yes, all new homes in BC, including new homes Squamish has are covered by BC's New Home Warranty Program.
5. What's it like living in Squamish?
Squamish is known as the "Outdoor Capital of Canada" due to its vast array of outdoor activities like skiing, kiteboarding, and mountain climbing. It offers a range of housing and investment options, including presale condos, townhouses, and single-family houses. Have a look at our article on What's it like to live in Squamish.
6. What is the difference between presale and resale properties in Squamish?
Presale properties are those available for purchase before they are built, while resale properties are those that have been previously owned and are now up for sale again.
7. What is a presale condo assignment sale in Squamish?
A condo assignment sale is a transaction where the original buyer of an unbuilt condo transfers their purchase rights to another buyer before the construction is completed.
8. What is the 7-day rescission period for presale condos in Squamish?
The seven (7) rescission period is a protection for presale condo buyers in British Columbia, allowing them a week to reconsider their purchase.
9. How can I find a good real estate agent for Squamish presale condo projects?
Contacting Vancouver New Condos is a great start. They can assist with all real estate needs in Squamish and other parts of British Columbia.
10. Are there any specific terms I should be aware of when considering presale condos in Squamish?