New Development Surrey Presale Condos
Surrey presale condos is what you will find on this page. The presale condos in Surrey you see above are updated weekly for 2023.
The City of Surrey Information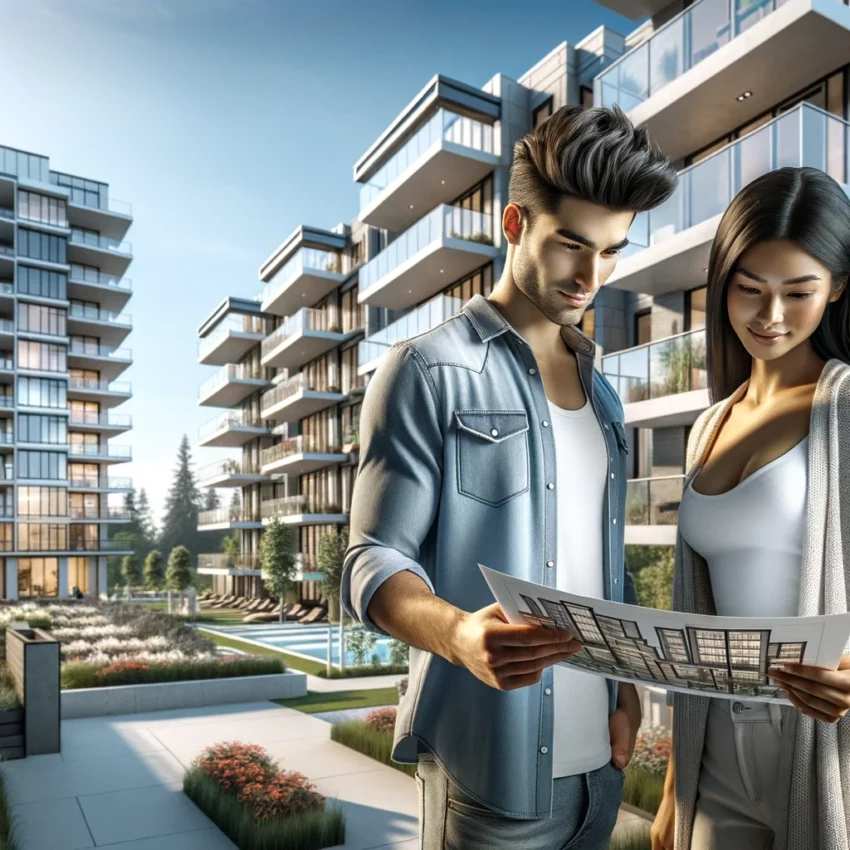 Surrey was incorporated as a municipality in 1879 but was not officially the City of Surrey until September of 1993. It is located in the Lower Mainland between the Fraser River and the U.S. border. In fact, Surrey is a major gateway into the United States for all of Metro Vancouver.
In Metro Vancouver, Surrey is the largest city in terms of land space at 316.11 square kilometers and is the second largest city in the region in terms of population with 568,322 residents.
New Development Surrey – A City of Growth
Surrey is a growing city with lots of presale condo options and has seen population growth of 9.7% in the 2016 to 2021 period.
The new development Surrey is experiencing means the City is predicted to surpass Vancouver's population within the next 10 years.
And unlike Vancouver, Surrey has the room and political motivation to grow and create a large number of new housing options including presales.
A Brief History of Surrey, British Columbia
Surrey has a long history dating back thousands of years, long before the concept of new condos for sale in surrey BC existed, the first inhabitants were the Coast Salish people, specifically the Semiahmoo, Katzie, and Kwantlen First Nations. These indigenous groups led a hunter-gatherer lifestyle and were adept at navigating the area's diverse ecosystems.
European contact began in the late 18th century, with the arrival of Spanish and British explorers.
The Hudson's Bay Company established the trading post of Fort Langley in 1827, just to the east of Surrey's present location, marking the beginning of European settlement in the region.
Surrey was officially incorporated as a municipality on November 10, 1879, and the name "Surrey" was chosen by Englishman H.J. Brewer who looked across the Fraser River from New Westminster and was reminded of County Surrey in his homeland due to the area's resemblance, particularly the rolling landscapes.
Surrey's Rural Beginnings
Early Surrey was dominated by agriculture. Its fertile land, combined with the accessibility provided by the Fraser River, made it ideal for farming, with dairy, poultry, berry, and vegetable production. With the completion of the New Westminster Rail Bridge in 1904 and the Pacific Highway in 1913, Surrey began to grow as an essential transportation hub.
Post-War New Home Boom in Surrey
The population of Surrey remained relatively small until the mid-20th century. Following the Second World War, Surrey real estate became a hot commodity with a significant influx of population due to the suburbanization and the post war baby boom. Almost all of the new post war residential development was made up of low density single family houses for a primarily working and middle class clientele. Shopping and commercial development originally along major thoroughfares became concentrated in the various malls in Surrey starting with Guildford Town Centre in 1966. The opening of the Pattullo Bridge in 1937 and the Port Mann Bridge in 1964, further enhanced Surrey's connectivity and growth.
Surrey Becomes a City
In 1993, Surrey officially became a city, and since then, it has continued to grow rapidly, becoming the second-most populous city in British Columbia. Surrey has evolved into a multicultural city, with diverse ethnic communities contributing to its vibrant culture.
Surrey's history is preserved in its heritage sites, like the Historic Stewart Farm and the Surrey Museum, which offer a glimpse into the past. Annual events like the Surrey Fusion Festival and the Vaisakhi Parade celebrate the city's multicultural heritage and are a testament to the city's inclusive spirit.
Surrey Presale Condos and Skytrain are Remaking a City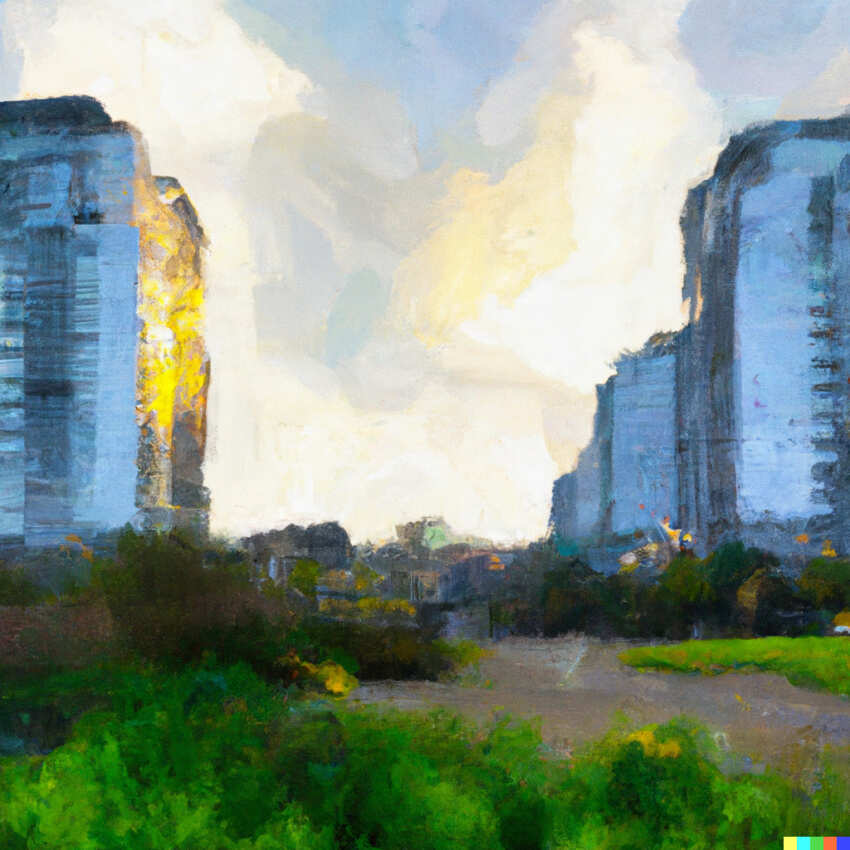 New developments in Surrey have housed much of the recent population growth associated with the arrival of Skytrain and high-rise towers. Skytrain is remaking the city as it has made commuting to and from and within the city car free and hassle free. Surrey has seen significant high rise presale condo development around Skytrain stations in the city which are Scott Road, Gateway, Surrey Central, and King George. A large percentage of the Surrey pre-sales we help clients with are in high rises walking distance to these Skytrain stations.
New Condos in Surrey Concentrated
Dense nodes of high rise presale condo development near Skytrain or other mass transit, jobs, shopping, parks and other urban amenity is referred to as Vancouverism that has been creating successful and popular communities across the region. These dense nodes of new condos in Surrey close to amenity, housing, jobs, and transportation allow for continued population growth without an increase in the negative aspects of urban life such as air pollution or traffic.
Surrey Also Has Presale Townhouses
Worry not those of you who want to live in Surrey but not in a condo. There is also has a wide selection of new Surrey presale townhouses for sale and upcoming in a wide variety areas and configurations. Many of these are farther from Skytrain and urban development and offer a cost effective single family home alternative.
Surrey is also seen as significant educational hub, with institutions like Kwantlen Polytechnic University and Simon Fraser University's Surrey and UBC's upcoming campus contributing to its reputation.
Surrey is currently urbanizing but surprisingly still has large amounts of productive agricultural land as well as idyllic suburban pockets. It is one of the fasted growing cities in the region in terms of population and job growth as well as one of the most culturally diverse cities in all of Canada if not North America and is home to a large, vibrant, and growing Punjabi speaking community.
Surrey Central – A New Downtown created with Presales
Surrey Central presale condo developments deserve specific mention as they are creating the city's new downtown. With a large amount of high-rise presale condo developments currently being marketed and planned with a large selection of homes in high rise residential towers, office buildings with a large number of jobs, Simon Fraser University, shopping centers, and SkyTrain accessibility, reflects Surrey's transformation into a modern metropolis.
This high population growth coupled with high job growth has made Surrey Central a top destination for real estate investors in pre sale condos and townhouses.
Going forward Surrey Central has the land, population growth, and job growth coupled with a can do attitude at City Hall that could very well see this area get larger and more populous than Downtown Vancouver.
Each and every new pre sale project surrey BC has allowed and continues to allow should go a long way to helping the city reach its goal of creating a new Downtown Core in Surrey.
Surrey Presale – Buyer Profile
Surrey in general is popular with investors and they make up the majority of our presale condo buyer clients in this city.
Our clients who have purchased a Surrey new construction home have seen good capital appreciation (see the most updated Surrey price data with the Fraser Valley Real Estate Market Update) as well as good and increasing rental returns on their investments.
We do work with end users in Surrey and they tend to be either first time home buyers or are looking for larger options like penthouses and townhouses.
Real Time Assistance for every Presale Surrey Has Available
If you are having issues finding the exact presale Surrey has to offer, please feel to reach out to us by either calling or signing up for our VIP presale email list.
Once you sign up, expect a call from one of our Surrey new development condo specialists who can help with all of your questions and assist in the purchase of any presale Surrey has currently has on offer.
Please note – We can help with the purchase and sale of an existing Surrey condo or house. We also can help with Surrey luxury homes.
Surrey New Development Condos FAQ
Q1: What are presales in Surrey?
A1: Let's start with the basics. What is a presale condo Surrey? Presales in Surrey and across BC are properties that are available for purchase before their construction is completed. For more information on this, please have a a look at our article on what is a presale condo in BC.
Q2: How is the population growth in Surrey influencing the presale condos market?
A2: Surrey, being the second largest city in Metro Vancouver in terms of population, is experiencing significant growth. This growth is predicted to surpass Vancouver's population within the next decade, making presale condos in Surrey an attractive investment.
Q3: How does Skytrain impact the demand for Surrey new development condos?
A3: Skytrain supercharged demand for Surrey preconstruction condos. Skytrain is transforming Surrey from being a suburban single family house community to a dense urban city grown with presale condos. Skytrain facilitates high density living as it can move large amounts of people without the need for cars and all of the space consuming infrastructure that cars require.
Q4: What communities in Surrey have presale condos?
A4: Surrey is composed of six distinct communities: Whalley/City Centre, Cloverdale, Guildford, South Surrey, Newton & Fleetwood. Each of these communities offers a variety of presale condos with unique amenities.
Q5: What is the role of Surrey Central in the presale condos market?
A5: Surrey Central is rapidly developing into Surrey's new downtown. With a multitude of highrise presale condo developments, Surrey Central is a testament to Surrey's transformation into a modern metropolis.
Q6: How can the Vancouver New Condos website assist me in finding new developments Surrey offers?
A6: Vancouver New Condos is a leading independent source for information on presale condos in Surrey and other parts of Vancouver. The website offers support for presale condo assignments and provides early access to project plans, pricing, and amenities. Upon request we have floor plans, pricing, & availability for all the new developments Surrey has currently on offer.
Q7: How can I stay updated on the latest presale condos in Surrey?
A7: By becoming a VIP Presale Condo Member on the Vancouver New Condos website, you can receive updates on the latest presale condos in Surrey, including early access to project plans, pricing, and amenities by signing up for our Surrey New Development Condo VIP email list.
Q8: What are the benefits of purchasing presale condos in Surrey?
A8: Purchasing presale condos in Surrey allows you to secure a property before it's built at today's price for delivery in future when prices are higher. You also get early access to incentives, bonuses, prices, and floor plans for new condo developments Surrey.
Q9: How can I get more information about new presale condos in Surrey?
A9: You can sign up to the Vancouver New Condos VIP email list to receive pricing, floor plans, and information about new presale condos in Surrey before they are made available to the general public. Also, feel free to call us at any time to get the latest on new condos in Surrey.
Q10: What role does Vancouver New Condos play in purchasing a presale condo in Surrey?
A: Vancouver New Condos have licensed Realtor available to assist clients in purchasing presale condos in Surrey. They offer guidance in selecting the right unit, help understand the market trends, and navigate the entire purchase process, ensuring a smooth and informed buying experience.
Q11: Is there a warranty on new homes in Surrey?
Absolutely.
Each and every new home in Surrey and across British Columbia are subject the BC New Home 2 5 10 Warranty.
Where is Surrey Located?
Surrey is bordered by Langley to the east and Delta to the west and White Rock and the United States to the south. Surrey is also a geographically diverse city made up of six communities: Whalley/City Centre, Cloverdale, Guildford, South Surrey, Newton & Fleetwood.
Each community has its own distinct focal points, but they all have great amenities. New condos in Surrey in a wide variety of configurations and sizes can be found in all of the following communities:
Surrey's Whalley/City Centre is on its way to becoming the second downtown as it is rapidly developing and converting into a pedestrian & transit-friendly downtown core for shops, culture and entertainment. This part of North Surrey is home to SFU Surrey, Surrey Memorial Hospital Holland Park. It is also where two Expo Line SkyTrain stations are located – Surrey Central and King George. There are great shopping, dining, and entertainment options all along King George Boulevard. The West Village Neighbourhood borders Surrey Central and features new condo projects such as Seqouia. Most of the new condo development in this area are concrete highrises.
Cloverdale is where you can visit Surrey's heritage sites – Surrey Museum and Surrey Archives. It is also home to the proposed Clayton Community Centre anticipated for summer 2020. It is also where the annual Cloverdale Rodeo is hosted.
The Guildford community is home to the second largest mall in BC – Guildford Town Centre – with over 200 stores.
South Surrey is where you can find Surrey's only, but very popular beach – Crescent Beach – as well as trails and recreation. It is also where the connections to the U.S. border lay.
Newton is where you can find educational, recreational and cultural amenities, such as the Bell Centre for Performing Arts and the Newton Cultural Centre.
In Fleetwood you can find the Fleetwood Community Centre, Surrey Sports & Leisure Complex and Fleetwood Park, which features multiple trails, gardens and sports fields.
Updated by Mike Stewart Realtor on October 27, 2023