13866 100 Avenue, Surrey Central
Sales Status:

Inquire for details
SkyLiving Surrey Overview
SkyLiving Surrey is a visionary residential project presented by Allure Ventures, located at the heart of Surrey City Centre, precisely at 13866 100 Avenue. This ambitious project is set to redefine urban living with its proximity to King George Station, just 600m away. With an estimated completion date in spring 2027, Surrey's latest condo development promises to be a landmark in the skyline.
Features and Floor Plans of SkyLiving Surrey
Boasting a blend of architectural marvels, SkyLiving Surrey encompasses a 6-storey mid-rise and a towering 32-storey structure complemented by a 6-storey podium. Potential residents have a diverse range of floor plans to choose from, ranging from cozy studios to spacious 3-bedroom units, and even exclusive 2-storey townhomes. Parking is meticulously planned with four underground levels designed to accommodate 472 vehicles and 669 bicycles, ensuring convenience for all residents. Access Floor Plans.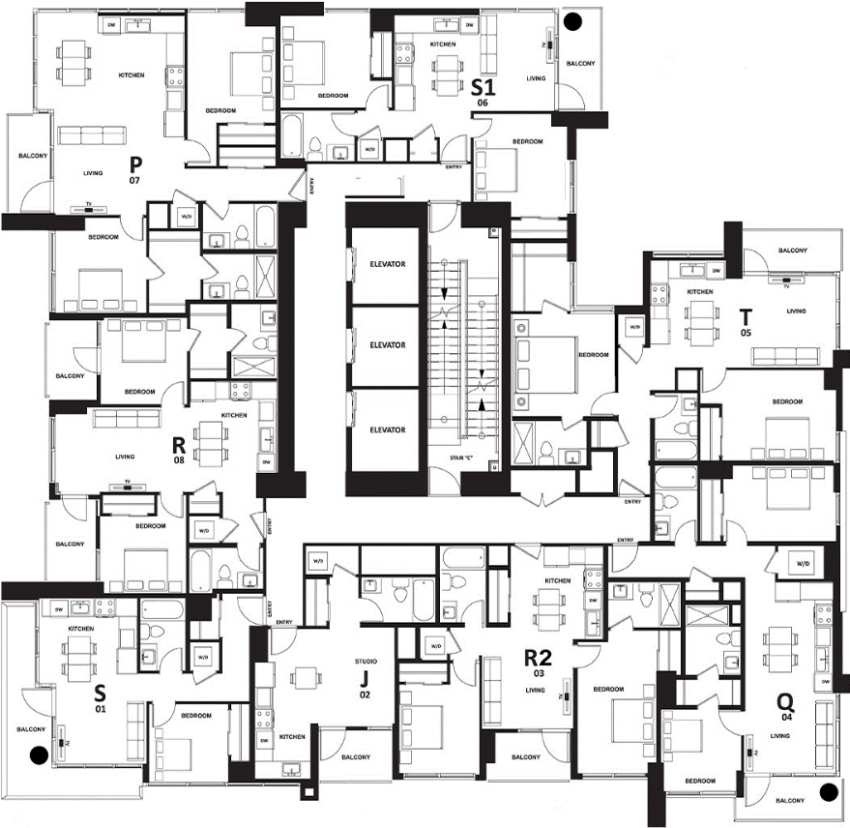 Amenities at SkyLiving Surrey
Living at SkyLiving Surrey is synonymous with luxury and convenience. The development offers over 39,500 sq ft of amenities designed to cater to every resident's needs. Indoors, one can benefit from a state-of-the-art gym, shared workspaces perfect for the modern professional, lounges for relaxation, and gaming areas for entertainment. The outdoor space is a testament to luxury living with a beautifully designed courtyard featuring a dog run and a rooftop SkyPark. This SkyPark, spread over a quarter-acre, is equipped with an outdoor theatre and various recreational facilities, ensuring residents have ample space to relax and rejuvenate.
The Neighbourhood
Strategically positioned, SkyLiving Surrey offers its residents unparalleled access to the best of Surrey City Centre. Adjacent to the Quibble Creek Greenway, residents have the perfect spot for leisurely walks. For nature enthusiasts, the Green Timbers Urban Forest Park is a mere 300m away, offering a green escape in the heart of the city. Shopping enthusiasts aren't left behind; the Central City Shopping Centre, right across from Holland Park, houses over 140 shops, ensuring all shopping needs are met. Brands like T&T and Walmart are just a few of the big names available. And for those who commute or wish to explore Vancouver, King George Station is conveniently located just an 8-minute walk away.
Interiors and Design
Luxury and elegance define the interiors of SkyLiving Surrey. The main living areas exude sophistication with elegant wood finishes, custom lighting, and expansive floor-to-ceiling windows that offer stunning views. Kitchens are a chef's dream, equipped with high-quality Samsung appliances, modern fixtures, and spacious cabinets. Bathrooms, designed with both aesthetics and functionality in mind, feature non-slip ceramic tiles, spacious cabinets, and top-of-the-line fixtures, ensuring every moment spent is in luxury.
The Team Behind SkyLiving Surrey
The success behind SkyLiving Surrey is attributed to the dedicated team at Allure Ventures. With a rich history in the Surrey market, both as employers and construction experts, they bring a unique blend of passion and expertise to this project. The architectural design, credited to Matthew Cheng Architect, is known for its boutique residential communities that prioritize functionality and comfort. Interiors, crafted by the renowned Cristina Oberti Interior Design, reflect sophistication and European elegance, ensuring residents experience luxury at every turn.
Studio to 3-bedroom units
4 levels of underground parking
39,500 sq ft indoor/outdoor amenities
Near Surrey Central SkyTrain Station
39,500 sq ft indoor/outdoor amenities
Steps from k-12 schools, Chuck Bailey Recreation Centre & Skatepark; Short walk to 140+ restaurants, shops, services at Central City Shopping Centre; Close to King George Hub amenities, Surrey Memorial Hospital; 40 minutes via skytrain to downtown Vancouver
In This Location
---
With These Tags
---