Vancouver Real Estate and Stocks Outlook 2021 – April Webinar
Hot Areas to Invest in Vancouver
April 8, 2021
Christian Dy, Latitude West Financial
Mike Stewart, Oakwyn Realty Downtown
Top producing realtor since 2005
vancouvernewcondos.com or mikestewart.ca


Market update
March 2021 listings were significantly up 126% from the same month last year. The number of transactions last March were super low because of COVID when things started to shut down, so it's a low baseline. But, the report says that in March, residents bought and listed across the region at levels not seen before. It's a huge increase because of the amount of stimulus going into the market, and we're seeing that pent-up demand that occurred during COVID being released. We're seeing all-time highs of property sales. It's unprecedented.
When the sales-active listing ratio is below 12, it means prices are trending downward. When the ratio is above 20, it means we're trending upward. In January we had 26.3% for detached homes, in February it was 41.8%, and March was 52.9%. The data shows we're significantly trending upward. If I'm reading things correctly, we'll see prices rise in 2021.
Yes, 100%. We're already seeing this. If you look at different areas of the city like East Vancouver, single-family houses went up 13.5% in the past year. Vancouver West is up 10.4%, West Vancouver is up 19.2%, and North Vancouver is up 19.4%. We're seeing even bigger gains in areas like Victoria, the Okanagan, and the Sunshine Coast.
If you look at what's happening with condos, prices in the core are muted but if you get out to areas like Maple Ridge, a condo went up 12.3% in the past year. In Pitt Meadows it was 10.6% and in Tsawwassen, 10.8%. There are also big price gains in Whistler and Squamish.
It's a continuation of what we've seen with people leaving the core, but I think that will change as vaccinations get rolled out. These gains will spread into the core of the city.
The Real Estate Board of Greater Vancouver provided the below stats. Email Mike to get a copy of the full report.
The one-month change in stats from January to February was all positive. Then in March, not only are they positive, but they're all higher than before. So, I feel we're gaining momentum.
I agree. I follow Jerome Powell, the head of the Federal Reserve, and we've recently seen a slight uptick in inflation that's resulted in slightly higher interest rates. Right now, a lot of people have rate holds at extremely low rates, like under 2%, that will be disappearing through April-June. Those people will be very motivated to get out there shopping and buy before the rates increase.
Personally, I think rates will go down again because we'll see a bit of inflation in the next few months as the economy opens. But once it does, I don't see that inflation spreading. I think it will be focused on the real estate and stock markets, but we won't see a return to the overall yearly inflation of 7-8% we saw from the late 1960s to the early 1980s. I'm confident we'll see continued real estate price increases without interest rates going up significantly. Once they go up a bit, they might come down in a few months.
Yes. People I talked to in the mortgage industry said their phones are ringing off the hook because the fixed rate is going up and some people are hopping on the bandwagon a little bit late. You might get a five-year fixed now in the low-twos, whereas  a couple months ago people were getting something in the mid-ones.
If you look at the prices of detached homes, the hottest thing in the first quarter of the year, the numbers are pretty aggressive – the three-month change is double digits in certain areas. What is going on in housing, specifically single-family?
It's interesting. Before the 2016 foreign buyers' tax, single-family houses increased in value faster than condos. The upper end of the market went the craziest. This was reversed once the tax was brought in. High-end houses got soft really quickly. Now, we're seeing a return to the market of the past with no foreigne buyers – it's all local people, money and incomes. So, we're seeing the biggest price increases in single-family houses located in areas most affordable to local people who make, compared to other cities of similar size and economic development, a relatively low income. 
Single-family houses under $2 million are going absolutely crazy. If we look at three-months for single-family detached homes across the Lower Mainland, it's 11.8%, but places like Pitt Meadows and Richmond are at 17.5% and 10.3%, respectively. Port Coquitlam is up 16.2%. These are unprecedented price increases where single-family houses are still affordable to people on a local income. Locals have money saved up from staying in from the lockdowns and building up cash from low interest rates. People are getting into bigger and better houses, but it's very few foreigners. We deal with Canadian citizen clients overseas because non-Canadians don't want to get hit with the 20% foreign buyers' tax. The hot areas are those like East Vancouver and the Fraser Valley, where locals can afford. There's definitely some variety across the region.
It's great to hear there is price appreciation for sellers. Tell us about the environment for putting in offers – is it still an overbidding situation?
It really depends on what it is. Single-family houses under $2.5 million – in places like East Vancouver, North Vancouver, and the Fraser Valley – are crazy multiple offer situations. For single-family houses over $2.5 million on the North Shore or in East Vancouver, or those over $3 million on the west side, you probably won't see many multiple offer situations. It's very price dependent. If it appeals to a local buyer or local taste and it's under $2.5 million, expect it to be hot. 
Got it. Tell me about what's going on with condos. It was slow to kick the year off, but has it picked up?
Yes. The condo market is really interesting. My focus is on the core of the city and the inner suburbs. Downtown Vancouver and the city core is unique and has been quieter than the suburban markets – condos over $1 million are not too active; as you get out further they become more so. One-bedrooms downtown and surrounding are very hot, particularly stuff that's well priced – same with Surrey and anywhere along a SkyTrain line and the high-density nodes of the Vancouver area. This goes especially for the smaller rather than bigger units because there are a lot of investors and first-time home buyers. The market is doing really well.
My real estate business partner just bought a house in Kelowna, which is a place also on fire. The difference between Kelowna and the city core is in Kelowna, you're looking at 5-7% gross cap rates, which is phenomenal, especially if you're paying under 2% on a mortgage. If you get out of the city's core, from a rental and investment perspective, things get a lot better.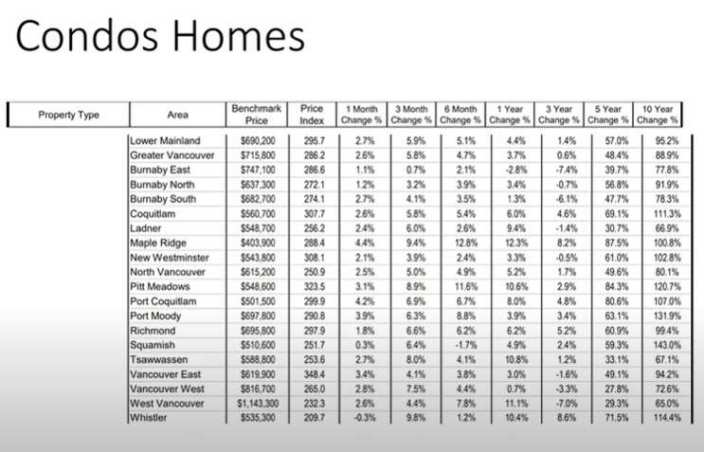 What are some things that have changed this month or that will happen later this year?
The biggest thing is to get in touch with your financial planner and mortgage broker so you know what's happening with interest rates, because it's a very dynamic situation. We're seeing rates rise across the board for many types of mortgages, particularly fixed rate. Your broker will help you get the best mortgage for your goals and your property – be it an investment or your primary residence. Financial planners like Christian can help you prepare for a purchase – you need your financial house in order to have the best experience when buying property. You need to make sure your finances are tax efficient so you can retire the way you want to.
I'd echo that. I help my clients avoid overbidding when they can't actually afford what they're overbidding despite qualifying for it. Or, they're looking for every penny from every resource possible because they're flustered by being beat out the past three attempts at a purchase. People are looking to use their inheritance early for down payments. 
But you need to look at what's going on – people get too emotional and competitive with getting out-bid. I would look at things like if your retirement and kids are set up, and what would happen if you take time off for maternity leave – can you still afford the property you're looking at? I add value by giving people ideas they never even thought of. I have a client now who's holding a great rate and is anxious to buy where they live, but they keep getting beat out in that area. I suggested they stay where they are but to buy in another area with good cap rates and cash flow. I can do the analysis to see if it makes financial sense. When you're holding on to a down payment and a great interest rate for way too long and you miss the boat, it's not good either.
 What's your take on what will happen in the next year?
I always look at what the heads of the central banks say. They're all saying they'll keep interest rates low to make sure the economy gets back to where it should be and where we were before COVID-19. They'll print lots of money and keep those long-term rates low, which will keep demand for real estate high. We're starting to see some things come from the Department of Finance and the office for OSFI which oversees mortgages – they're tightening up the stress test to increase qualifications and slow the market, but I personally think this economy and market are unstoppable. We have basically the most active market we've ever seen in BC and there's still a relatively high unemployment rate. But when those people go back to work and people start going to restaurants and travelling, we'll see a lot more demand for housing in the core and quieter places, like we're seeing in the Fraser Valley or on the Sunshine Coast, for instance. I'm optimistic we'll see significant price increases across the board, at least for the next few years.
 I definitely agree. I think in the short term, there will be a lot of added pressure to buy for those who have a low, locked in 120-day rate of under 2%. Some people will get really competitive because they know, from a cost perspective, if they have to renew at 2.1% or 2.2% but they're holding a 1.6%, it's a big differential. 
I also don't see any slowdown in the detached market especially if it has a suite in it, because you have all these people jumping from condos and townhomes to houses which is much easier to do with the income from a suite.
Unlike when we last spoke and weren't hearing about much action or multiple offers on condos, they're starting to come back. Clients renting on the sidelines are looking in that market and starting to realize condos are a good buy right now. Now, everyone's jumping in so prices are going up.
Yes, absolutely. What's going on with the stock market? 
We haven't vaccinated everyone yet, the cruise lines aren't cruising, hotels aren't to capacity, and airlines aren't all flying, but you wouldn't know this from what's happening in the stock market! It is open for business. There's so much theory about why so much money is flowing into the stock market and why there are all-time highs, higher than pre-covid even though the economy hasn't recovered and we have a massive amount of unemployment and permanently shut down businesses. It doesn't mean things are too high though – there's tons of opportunity inside the stock market.
 I've always said I like the stock market, but I don't love it. I love real estate. I always combine the two for my clients and see how they can work together. I think if someone has invested all of their money in the stock market, they're missing out and vice versa. I think real estate is a great way for younger people to grow their wealth because they're leveraging their money against the bank.
The stock market is a hedge; another asset class to grow and potentially yield great returns. But, the danger is when a lot of people invest in the stock market, like last year, and they think they're geniuses because everything went up. The easy money has been made though, from about March-May of last year until now. Now, it's trickier because we have some very over-inflated things, like Tesla. It was at 100-200, then it went up to 500-900 and pulled all the way back down to 600. You need to be careful with high-flying stocks like this, or cryptocurrencies.
Now is the time when professionals need to come in. There is still opportunity. You want someone with the same vision as you. Some of my clients love real estate but have $100-200k on the sidelines and don't want to see it in cash until their next real estate purchase. If you're not sure what to do or you're worried about missing an opportunity, you need an advisor.
When it comes to the money being printed and pumped into the economy, quantitative easing, the value of a dollar keeps getting lower and lower. So, where do you turn to make sure you don't lose your money to inflation? There are only two answers: the stock market and real estate. I want all of my money moving to keep as little cash as possible, but I want to do it in a very safe way.
Questions
I'm looking to sell my condo in Olympic Village. Would you suggest selling now or 6-12 months from now?
Typically, the spring gets the highest sale prices in a market when you don't have things like COVID-19. I personally think you may see more price appreciation in condos if you wait, but my crystal ball is as good as yours. I would consider what's going on with the condo, it's size, and what you want to do with the money. Look at the market dynamics of where you are and where you want to be. If you're selling in a soft market and buy in a hot market, it might make sense to wait until the market for what you have heats up and the market for what you're buying cools down. Also, what's going on for you personally? Maybe you have a fantastic opportunity to sell now – or not. But given what I'm seeing now, Olympic Village will probably get better going forward. Nobody can know though – we couldn't predict COVID, September 11, or other events. 
It's like any other purchase. If you're happy with the selling price and the conditions it comes with, and you're happy with your plan to buy or cash in and reinvest, then sell. Otherwise, you're speculating. When you speculate, you get burned because you're trying to hit the top of a market which is like trying to hit a perfect bullseye. Maybe you bought your Olympic Village place 7 years ago and made $250,000 which you're happy with, along with the conditions of sale. So, sell it. Maybe you haven't made enough or have nowhere to go after – then, hold on to it until the conditions are ideal. But it's dangerous to cherry pick the top of a market. 
Do you still see downward pressure for condos in the downtown core?
No. I don't see downward pressure in any market; I just don't see as much upward pressure in the downtown core for properties over $1 million than I do for single-family houses outside the downtown core or one-bedrooms in the downtown core.
Do you have info on the condo market in Victoria?
I just work in the Vancouver area, but I'm happy to connect you with my colleague in Victoria who can help. I can also provide the Victoria stats in the meantime.
What are your thoughts on listing a single detached home in East Van now vs. the summer?
The summer can be difficult – it really depends what's going on. If the weather is super hot or smoky, it can be really bad for selling a property. Spring is good and single-family houses in East Van are going crazy right now. You could see more money if you wait but, again, there are so many things out of our control. It's difficult to tell.
Yes, and I'd be careful because once those rates go up, the over-bidding will cool. Maybe today you list at $1.5 million and in the summer you list at $1.6 million, but you might get more than $1.6 if you list now. People holding onto these low rates are very anxious. 
Also, you might list now and get an amazing offer you want to take, or you could get poor or no offers at all. You could then change your mind and do it in the summer. You have that power.
 Rates could go up, who knows. The best way to decide is to look at your personal needs and goals.
Where can I buy a one-bedroom condo for under $400,000? Is Maple Ridge the best option?
I'm more of a city-core guy than a suburb guy, but I do think you can get something under $400,000 in Maple Ridge. Port Coquitlam has options – a client bought two full-sized one-bedrooms with parking for $385,000 at a project called Otto. The Fraser Valley and Surrey have great options. It depends if you want to buy presale or resale. If you're looking at this purely for investment, I'd check out the Okanagan for higher cap rates, maybe Nanaimo. You'll get better cap rates in Kelowna, for example, than in the Lower Mainland. I can connect you with people in these markets.
I own properties in Abbotsford-Chilliwack and there's a lot going on there, if you need to be closer to Vancouver – infrastructure, hospitals, airport, universities, and a lot of jobs.
Connect with me to see how I can help you out – it's free for an initial consultation. For real estate statistics or market connections, or to explore buying or selling, give Mike a shout.