Real Estate Outlook Vancouver 2021 – May Webinar
Vancouver Market Update: May

Market update
April 2021 listings were 342% higher than the same month last year, but there was also a 14% decrease in homes sold from the prior month.
 When the sales-active listing ratio is below 12%, analysts believe prices will trend downward. When the ratio is above 20%, prices should trend up. Here's where we're at:
Prices were viciously going up, but if you look at April, the numbers significantly dropped:

What are the reasons these numbers have gone down from March to April?
We're seeing an expansion in supply that's normal when there's a big run-up of sales activity. People who own and are thinking of selling see that it's a fantastic time to sell — prices are rising, volumes are high, there's a lot of liquidity, financing is cheap, so they say let's put our place on the market. So, one month you get big sales — last month was the highest on record – people know there are buyers, they'll get top dollar and their place won't sit around. There's also an interesting market dynamic: everyone thinks you get the best deals when the market's soft, but this isn't necessarily true. When the market's soft, you don't get those properties that are really well taken care of and really special, owned by people who have the resources to hang on. When the market is doing well is when the people who have the money to hang on decide to put their really nicely maintained, special properties on the market. 
So, for a buyer, it's a great time right now because you have extremely low interest rates and a big expansion of supply that makes the buying process a lot easier than it would have been six to eight weeks ago with multiple offers. I recently helped a client in Alberta buy a single-family house in Kitsilano on a 40' x 122' lot that he's looking to redevelop and there were only two offers, the second of which came in at the very last minute and didn't seem that strong, so we won it. Other clients of mine negotiated the price down on a property in Caulfield, West Vancouver, in a very nice location on a large lot and, though it needs maintenance, it's a solid house. 
On the flip side, depending on the market, it's been a little more challenging as a seller. North Vancouver, East Vancouver, the Fraser Valley are still easy to sell and more difficult to buy areas, but at least now you can still actually see properties and take your time to look at them. Market conditions have marginally improved for buyers and are a little more challenging for sellers, but it's still good for both sides.
I feel market prices will slowly keep rising based on the numbers. When we look at the forecast from our previous session, there were numbers ranging as low as 4% up to 9% for the 2021 outlook. Here's the one-month change for the past 3 months. The numbers are climbing up. Sure, the activity has slowed a bit but from a pricing perspective, the numbers are still trending upward.
To dissect this, if we look at the one-year change for single-family homes, it's still quite prominent year-over-year. Even for the three-year change, all the numbers keep going up.
The condo market isn't as much as single-family but still is trending upward. No pricing is trending upward.
What's happening right now for buyers — do you feel they don't need to go over asking right now?
It depends on the product. If you're competing in a multiple offer situation, the minimum you need to go in on is full price. In most cases, you probably have to go over. If you're working with a realtor, make sure to get their advice. They should be able to help and guide you in a multiple offer situation. There's a difference between asking price and market price and a good realtor should be able to calculate the market price for you, irrespective of the asking price. Often, sellers will put the asking price just below the market price to get a lot of activity and get that market price, or to get a buyer that overshoots and goes over market price. It's really important to work with someone who knows the product and area and has a track record of winning these things.
If you look at some of these numbers — a 3.1% change in overall composite price for the Lower Mainland per month. If you annualize that, it's a 36% increase in value for the whole year. We're looking at some pretty steep price rises. These prices will rise because of sales ratios – anytime they're above 12%, prices will rise. For single-family houses, they're around 37.4%, condos are about 51.5%, and townhomes are about 70%. But, within the market you'll have different ratios — for example, downtown Vancouver has a very low sales ratio for condos so that could be a place to get some real value. A lot of people are still concerned about COVID, but once people are vaccinated and we have herd immunity, I think they'll realize what a great place downtown Vancouver is to live. People will want the busy shopping, restaurants and patios again.
We can only hope that things start to get back to normal again.
What's going on with the potential new stress test in June? What do you think will happen with rates and people losing their low fixed rates?
The stress test is a way for the federal government to control the real estate market that doesn't involve them raising rates for the overall market. The only way the Canadian economy is competitive internationally and with the US is with a low Canadian dollar. The way to achieve that is by the Bank of Canada keeping interest rates low – the side effect of that is to push up asset price, in this case real estate, because it's so inexpensive to buy. The government controls this by tightening the mortgage qualification rules. With it, you're not qualifying at 1.75% or 2.25%, you're qualifying much higher at, say, 5.5%. They want to know that you can afford that mortgage even if rates get that high. They do this for three reasons:
To say they're doing something about housing affordability in Canada as part of a re-election strategy.

To keep control of the real estate market because if it goes crazy, it can throw the economy off track.

To protect consumers from themselves. The US financial crisis was largely caused by irresponsible or lack of regulation — you had the mortgage industry and politicians saying "let's give everybody mortgages", and nobody slowed things down.
The stress test can be a pain when you're trying to sell a property, but overall I do think it's a good thing because it keeps us safe.
There's been mention of interest rates increasing to cool down the market. How significant of an impact will this have overall, moving forward?
Interest rates aren't increasing to cool the market down, but that may be their effect.
Right now the bond market is changing because of perceptions of future inflation, but I don't see inflation getting that high. In the past, the world economy was cellular. So, if we didn't have enough shirts, cars, and socks in Canada, too bad – we can't bring in any more because of the 20% tariff from the US. So, the price of these things would go up and that would be overall inflation on the economy. Now, you can bring in any of these things from all over the world with low tariffs and shipping. Where we'll see inflation hit is in cryptocurrencies, real estate, and the stock market because there's limited amounts of these things and they're not easily replaced. I think interest rates will eventually go up, but I don't see them surging to 10-12% like when I was a kid or 20% when Paul Volcker raised rates dramatically in the early 1980s as head of the US Federal Reserve. Rates may even go down if the economy has problems going forward.
I've been doing this for 16 years and have seen a booming market when interest rates are around 5%. The real estate market can go crazy with very high interest rates. What happens is the department of finance, which controls the stress test, pushes out mortgage amortizations. In 2005 when I started, you could get a 40-year amortization which is very good when interest rates are high — you're paying huge amounts of interest which means writeoffs on an investment property. Just because you have high interest rates doesn't mean you won't have a rising real estate market.
I've seen interest rates go up a number of times and it didn't really have a dramatic effect to cause real estate to crash or cool off. People always need to buy. If they're worried the rate will go up from 3%, they'll buy at 3% or whatever it may be. In the past few months we just saw incredibly low rates mixed with pent-up demand. The two crossed paths and suddenly there was a surge of people wanting to buy.
If I want to sell in New West and buy in Abbotsford, is it better to use the same agent for both transactions, or two different ones who know each area better?
It really depends on the realtor and how comfortable you are with them knowing each area. You can have a fantastic realtor who knows the buying and selling side well.
I would have two separate realtors because those markets are so different, so specific and so far apart. You could have your New West realtor refer you to someone in Abbotsford so they don't feel bad (or vice versa). Plus, the Abbotsford realtor will take you seriously because you've been referred and they know you won't waste their time. If you're looking for a realtor in either area, I'd be happy to refer you.
Does the foreign buyers' tax apply for non-Canadian and Canadian spouses?
Go with an accountant or lawyer's opinion on that one — it's beyond the scope of my license and they can advise you best.
When COVID slows down with increased vaccinations, how do you feel it will affect the market? Better for buyers or sellers?
It depends where. When we have herd immunity, I wouldn't be surprised to see places like the Fraser Valley, Bowen Island, Nanaimo, Squamish, and other markets further out soften or even have price declines. The cores of cities — downtown Vancouver, Metrotown, North Surrey, Lougheed Town Centre — super dense places people have moved away from because they're worried about COVID will have people moving back to them. Prices and demand will go up in these places, and the craziness we've seen outside of cities will come back to these urban locations.
Are you knowledgeable about US property rules and laws? I have one property in the US and want to buy a condo.
Yes. I have clients with properties in the US, and I own down there too. We can set up a discovery call to continue the conversation.
Don't try to time the market. It's dangerous. Find something that fits with what you're looking for, whatever the rates happen to be. Check your cash flow, see if you can afford it. I think there will be added pressure if anyone is still holding on to a lower rate. People who locked in at 1.7-1.8% for 120 days should be coming to the end of the cycle soon. New rates are still in the low 2s and are historically low. Based on the data we've seen, 2021 will remain on an upward trend for Vancouver real estate prices for sure.
I review my clients' strategies and try to help them take advantage of opportunities in a very safe way.
Here's a case study of a perfect example of how I help my clients. There's an analysis that needs to be done. I work with clients to solve their financial needs, including real estate. It starts with a discovery meeting that doesn't cost anything, where we talk about the problem you're trying to solve and what I can do to help you. If you decide to become a client, we navigate through all the options until we implement a strategy and then review it.
I would do a cost-benefit analysis to show you what it would look like if you bought a second property and what it would look like if you didn't. For example: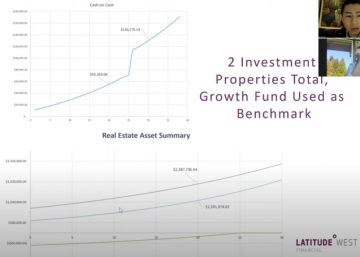 The analysis if you're considering changing or acquiring real estate is so important, and if you can't do that analysis yourself you should book a discovery meeting with me. When you use an advisor, your wealth multiplies significantly over time. I'm sure it's even higher with real estate, which I can advise on and many others can't.