'Hot Areas to Invest in Vancouver' September Webinar
Hot Areas to Invest in Vancouver
September 10, 2020
Christian Dy, Latitude West Financial
Mike Stewart, Oakwyn Realty Downtown
Top producing realtor since 2005
vancouvernewcondos.com or mikestewart.ca
We've seen a dramatic increase in prices from this time last year. Email Mike to get the full report. 
It shows the median detached house price in Burnaby a year ago was $1.457 million, and today it's $1.56 million. Condos have also gone up. North Vancouver has similar numbers. A couple of numbers are flat but median detached houses have gone up. West and East Vancouver are the same. Last month sales were 19.9% above the ten-year August sales average. August 2020 sales were 36.6% above August 2019 sales. This leads us to believe we're trending up.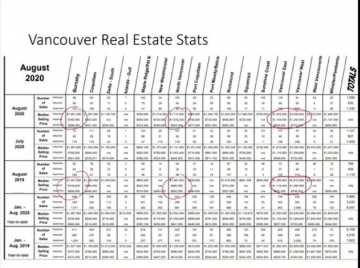 This graph shows the last 30-some years, with the blue line being detached homes in Vancouver. They have gone up aggressively since 2003. There was some volatility in 2016 but we're trending back up. Condos and apartments are following suit.
What is happening now in real estate?
The market is extremely active right now. I've talked a lot about how the Bank of Canada helps with ultra-low interest rates and quantitative easing (which is printing money and the Federal Government borrowing mass amounts to backstop and support the economy). This creates the wealth effect, where these actions stabilize or push up the value of real estate across the country. This makes people feel comfortable to continue to spend.
During a time like this – with COVID-19 creating a drop in demand for goods and services – the fact that spending has continued to occur has resulted in prices remaining stable and volumes going up. Volumes dropped when we had restrictions on going out to see properties, but they are now up dramatically. August 2020 saw sales volumes of 36.6% above August 2019 volumes. We are also 19.9% above the 10-year August sales average. The efforts of governments and central banks are now coming to fruition. Now, we're seeing upward pressure in sales prices, depending on the area and type of property, huge increases in volume, and properties that are selling (in many cases, for significantly more than what they would sell for last year).
It's incredible we're seeing recovery so quickly; it reminds me of what happened in 2008. Where are you seeing hot deals that are undervalued in the Lower Mainland at this time?
I'm seeing assignments of contract (a presale condo someone bought several years ago at a lower price). These are great for investors that are okay with a level of complication and complexity. Presale condo assignment is a great way to get value in this market.
Investors are also doing really well with one-bedroom condos in and around the downtown core, especially from a capital appreciation perspective. We're seeing great deals in the Chilliwack and Abbotsford areas of the Fraser Valley where people can buy decent quality condos that are 10-15 years old, well run and maintained, with a gross cap rate (annual return) of at least 6%. You can also buy a unit and Airbnb it, for dramatically higher income. Also, while it's rare, you could rent a unit to a furnished rental company that rents to an insurance company that houses people temporarily who can't stay in their own homes due to emergencies like fire or flood.
Single family house lots on the east and west sides of Vancouver are also hot right now. The west side is more expensive with lower cap rates, but redevelopment options are quite good, though this is more of a long-term goal. There are quite a few investment options for varying budgets, price points, complexity, and time invested. 
What is going on in West Vancouver in terms of deals?
From an owner-occupier perspective, West Vancouver is fantastic and offers good value. West Vancouver, Richmond, and the west side of Vancouver were really hit hard by the foreign buyers tax, and prices in West Vancouver have gone down 16.2% over the past three years. That said, in the past year they're up 6% and over the past six months, they're up 5%. In the past three months, they're up 1.9% and the past month, 0.4%. I still see a lot of upside because the public schools are some of the best in the country. If you follow the Fraser Institute ratings of schools across BC and Alberta, West Vancouver public schools didn't rank lower than an 8.5 or a 9 out of 10, and many are 9.5, 9.8 and even 10. These public schools are ranked on par with some of the best private schools in western Canada. You also get larger houses and privacy.
Surprisingly, West Vancouver can, in many cases, be less expensive than North Vancouver. This was not the case 30 years ago!
Usually when there's a downturn in the market, this is the type of place you want to look at. And when the market swings up heavily, it's the places in West Vancouver that get the 30% jump while everyone else is at, say, 12%.
I agree. If you look at the three-year price pattern for West Vancouver single-family houses, they're down 16.2%. But to your point, North Vancouver is very much more a locally-oriented neighbourhood and prices only went down 5.2% over three years. The east side of Vancouver is in a similar situation, as prices only went down 3.1% over three years, but houses on the west side of Vancouver went down 15.7% during this time. So, the locally-oriented neighbourhoods are the ones seeing the fastest price appreciation right now, but they're not necessarily where you want to go — you want to get into areas that are a little bit neglected or missed by buyers, so you can get far better deals. 
Yes, if you can afford it and it suits your family situation, it could offer more significant capital appreciation and a greater investment than the down stock market. So, in terms of investors, capitalization rate, and good cash flows, what's your opinion? Which areas are you liking?
A colleague of mine that helps clients in the Fraser Valley helped a client buy a two-bedroom, two-bath 918-square foot unit in a 2008 building for $283,000 and they're getting $1,400 per month on a 10-month fixed term lease with a doctor. In my view, that's fantastic value! $283,000 is so inexpensive and with a 2% mortgage, it cash flows depending on how much you put down. The Fraser Valley has fantastic deals if you're looking for revenue.
Another thing is to go where the SkyTrains are going. The new SkyTrain will be going west along Main & Broadway. There are presales, assignments, and existing properties in that area. You buy before the SkyTrain goes in, hold while you wait for it to be built, then sell or refinance and reinvest the money elsewhere. There are a lot of really great options associated with the development of the city, its increasing density, and the development of the mass transit system.
I own in the Fraser Valley, it's a big place. Where specifically are you seeing the cash flows?
There's a project called The Georgia, in Langley. A mortgage broker I know bought a presale unit there, and his significant other did the interior design for a furnished rental which they have on Airbnb. This is time intensive, but he's cash-flowing a few thousand dollars per month which is shocking, as I think he paid $400,000 for the unit.
For something less labour-intensive, you can get good quality product for under $300,000-400,000 in Chilliwack or Abbotsford. These get very high cap rates. What you see out in the Valley is people don't necessarily make less money, but the cost of housing is so much lower that they can afford to pay more in rent. A two-bed, two-bath in Chilliwack might cost you $1,400 a month, while you might pay the same for something very small in East Vancouver while you make the same income. So, a lot of people would rather be in the Valley and pay that rent.
I can echo what you're saying from personal experience, as I have rental property in Abbotsford and Chilliwack. You can get some good quality tenants who are working from home, and the areas have everything you need for restaurants and stores. You don't need to come to the city for a nice dinner.
What's happening in Surrey and North Delta?
I like Surrey and North Delta. You get a lot of high quality, dense development there, especially in Whalley and anywhere near a SkyTrain where you have easy transportation for people who don't want to drive. From Whalley, you can easily get to Burnaby or Langley for work, with the SkyTrain now going to Langley, too. I have clients who bought there who have done extremely well and I think the area will continue to do well in future. The numbers, price-wise, are shocking.
Also, the combined price index for North Surrey has gone up 94% and condos have gone up 122% in the past five years. This is fantastic.
It's so important to work with a realtor who can compare investments in different areas. You shouldn't have your heart set on one area, unless you're planning to live there yourself. Realtors can run the numbers for you for different areas and understand them. Staying close to a SkyTrain will not only help with appreciation and rent but also with vacancy — when vacancy is bad, anything next to a SkyTrain line isn't affected in the same way. During recessions, people always want to rent near a SkyTrain so they can give up their vehicles. 
What's your opinion on Coquitlam? Coquitlam is also great – again, you have the SkyTrain and people want to live there. The water, mountains, and Port Moody are also really close.
Metro Vancouver wants to see a lot of population growth in the Northeast Tri-Cities area, which consists of Coquitlam, Port Coquitlam, and Port Moody. You'll see a lot of development there. The density model is very successful because it creates liveable, new neighbourhoods where people want to spend time and walk around. You get the convenience of Burnaby and the West Coast Express nearby along with the natural beauty of the ocean, Indian Arm, Burrard Inlet, and the mountains.
How can you track the developments in these areas?
I can help you with that. I have email lists for presales in all of the cities and municipalities in Greater Vancouver, the Fraser Valley, southern Vancouver Island, and the Okanagan. Email [email protected] or call 604-763-3136 and I'll get you on whichever presale lists you'd like. 
What's the future of Port Moody like?
Port Moody is already dense and is a bit different with its natural draw, because you have the water and tip of Burrard Inlet. It's like White Rock in that way. Port Moody might be the highest priced city in that area because of the water and mountain views.
Is there an advantage to buying an older house that's been renovated?
Absolutely. Buying anything built by people is like buying an old car: if it was well designed and well built in the first place, but it's old, it's reasonable to expect to spend money on it to perform as designed. If you're buying new, this won't apply. The good news is the way we operate with a home inspection for clients buying an older home, so you can see quickly and accurately what to expect for costs. Plus, for older condos there's a document called a depreciation report which gives you a clear idea of upcoming expenditures. 
Assuming unemployment will increase and the economy is stuck next year due to COVID, is now or next year a good time to buy?
The last five months have been a good indication of what's to come if COVID lasts even longer. The absolute worst we saw was in March where it caught people off guard, there was no government stimulus at the time, and the world wasn't prepared for COVID. So, a small lull occurred in real estate. This was more of a physical restriction where people couldn't see places. However, when this restriction lifted and people became more comfortable, those who were able to buy houses and invest still did so.
The stock market is a perfect indication of how the market has recovered. Unemployment numbers will get worse, but this doesn't mean the economy itself will get worse. Those who were most affected by COVID-19 in terms of employment were probably the same people who already couldn't afford to buy real estate to begin with. My clients had fairly stable income and were still eating in restaurants and buying or selling homes.
So, do not try to time real estate — it's a dangerous game especially in Vancouver. If you have the funds and a steady income, whether you're an investor or owner-occupier, I'm more concerned about what you find as opposed to timing the market. If you find a place you like, buy it. Don't buy a place you don't like because you think the market will go up next year. Focus more on the product you're buying rather than the timing of it.
Whether the market's up or down, you're only buying for yourself or your investment. Finding the right product and working with the right people is way more of a determining factor.
I tend to agree. COVID-19 didn't affect those who were qualified to buy and sell real estate. My job is to talk to these people and I'd say 98% of the people I spoke to were still working. They're in health care professions or are accountants, lawyers, or business owners who could and did work from home. The interesting thing is they're still working from home even though they can go back to the office, whereas I think unemployment really affected industries like hospitality, which has incomes too low to allow people to afford properties. Jobs like servers, hotel front desk and cleaning staff, and airline flight attendants were the first to go. Many of my clients are airline pilots who are all still getting paid. If they get laid off, they can't go back to work because they have to requalify – so they're still employed and training.
Things won't get worse, they'll get better. Back to what I said before, the central bank of Canada and the Federal Government are using real estate as an emergency balloon to reinflate the economy. This was the same as in 2008 – I had a mortgage at 5% and was subsidizing a property. By March 2009, it went to 1.85% and cashflowed around $700 a month. They're using the same model as before, and I'm an optimist. I think we'll be okay, and I don't see a second wave coming.
I agree. Don't try to time the market. Work with professionals to figure out the best option for an investment or for yourself. We don't know which way real estate will go in the short term, but in the long term it will go up. We also know that rates are predicted to stay low, which stimulates buying because it makes things a lot more affordable.
I review my clients' strategies, whether it's for their own home or an investment. My process is as follows:
I have a discovery meeting (online, these days) with clients to learn as much as possible about what they're trying to do. This doesn't cost you anything. I'm really doing financial planning and I include real estate as part of that along with your other investments. But you don't have to invest with me. I provide a financial plan to help get you organized.
I do an analysis to see how your assets would look, say, with two vs. one or three vs. two properties. I deal with a lot of sophisticated and first-time investors. If you have good income, steady cash flow, or significant equity in your current home, I invite you to connect with me to set up a time for a free, quick conversation to see how I can help you. 
I've found that people who use a financial advisor have significantly more wealth than those who do not: