'Hot Areas to Invest in Vancouver' October Webinar
Hot Areas to Invest in Vancouver
October 15, 2020
Christian Dy, Latitude West Financial
Mike Stewart, Oakwyn Realty Downtown
Top producing realtor since 2005
vancouvernewcondos.com or mikestewart.ca
This Vancouver real estate stats report from Mike and his team shows a dramatic increase in average price in September 2019 compared to September 2020 at 13.9%. This is an average across different pieces of real estate but active sales listings' average has declined. What is your opinion on these statistics?
It's been interesting. If you've been listening to our previous episodes, you'll know that the Bank of Canada and Federal Government have been doing things to stimulate the economy, and this is basically the result of that stimulus. It's why we're seeing the increase in price and reduction in listings. You're seeing demand stoked by government action and confidence in the Canadian economy. That 13.9% varies depending on where the listings are. Areas further up from the core with larger spaces closer to lifestyle elements people want to enjoy, for instance, Bowen Island and Squamish, have seen significant price and sales demand increases. However, closer into the core, higher density options have seen less price appreciation along with a lower sales ratio. I would argue this is completely to do with COVID-19: people are moving from higher to lower density living to decrease exposure to the virus, but more and more people are also able to work from home that couldn't have before COVID-19.
We're seeing a change in the Vancouver real estate market in terms of what is popular and what isn't. High-end, single-family houses on the west side of Vancouver are on fire – which is totally different than when we spoke 3-4 months ago. West Vancouver is also seeing price and demand increases. Will this continue if we get a vaccine? I don't know. We may see a move back to higher density housing options back to the core. That said, I see the higher density cores of the region being quite good-value options with good deals, particularly downtown Vancouver.
Yes. We've kind of gone through the worst of the storm, and prices went up! The dollar volume statistic from 2019-2020 shows a massive amount of volume of money changing hands in real estate, and you have sales going up as well. If the sales hiccup in March-April but then a straight increase was our worst, we're getting out of it and it's blue skies from here – eventually there will be a vaccine and things are starting to open back up. Am I being naive? What do you think?
I don't think it's naive to think that. There's a lot of talk about the 90% economy we're in right now, where certain sectors like travel and restaurants can't open back up but real estate is doing well. When we have a vaccine and get back to a 100% economy, I think we'll do even better. Overall, unemployment is going down – there's a lot of positivity and good things happening.
An email came out from the BCREA today that said sales volumes are up 25.1% compared to this period last year. But, the thing that shocked me was that MLS sales from September 2019 to Septembre 2020 are up 63.3%. You're seeing a lot of make-up transactions now from people who couldn't buy during the spring. It's all very positive and even with talk of a second wave, I think we'll power through it. The Vancouver/BC real estate market is a pretty powerful beast.
I actually have some statistics here that say, "Aren't we in a recession, and in a recession don't we typically have pullback from buyers?" The report goes on to say (which you've echoed in past talks) that, yes, businesses are failing, there is high unemployment and reduced income, but the unemployment mainly affected entry-level and service sector workers the most. Most mid- to high-income earners were not hit as hard or at all. What's more, is there was a record level of household savings, up to 28.2%! No one was travelling or buying like they were before. So, now we potentially have people with their down payment that wouldn't have had it before. I know several people who have gone from a two-car to a one-car family – that's $400-600 a month right there. I can't see it going back down.
Agreed; I'm seeing the same thing. We can't travel internationally with COVID-19, so we're saving that money. My business has changed – we had a big office with 10 desks but my team decided they didn't want to come in anymore, which I was fine with. Now with it tapering off, I asked people if they wanted to come back to the office but they're happier working from home. So, we got rid of the office and are saving that money.
This graph shows prices spiked high in the past few years and then dipped down, but now they're aggressively making their way back up.
What is happening now in real estate with buyers and sellers?
There are more buyers. Depending on where you are in the region and the type of real estate you have, you're dealing with a mild to strong sellers' market. This means there are more buyers than sellers and the demand for housing is higher than the supply. Buyers have less opportunity to negotiate, while sellers have more power to get what they want. It's an interesting market dynamic. It's quite positive and comforting, given what we've just come out of.
When someone sees a price, is there even a point in asking for a discount? Could this be 5 or 10%?
It depends on the product. The key is to get your realtor to inform you about what's happening in that particular market. Look at the data before deciding what to do with your offer. In certain areas with certain property types, you can absolutely negotiate. Maybe you'll get 5% if it's rough or overpriced, and there's not much competition, but a single-family house on the west side of Vancouver on the lower end of the price spectrum, for instance, will have stiff competition. You may have to go above asking with a subject-free offer once you've done your due diligence. It really depends on the type of property. Check-in with your realtor; they should know and give you that advice.
Is there anything out there right now you think is a bargain or undervalued?
I really like one-bedrooms in downtown Vancouver for investments. Because of COVID, many people from the Downtown Eastside have been pushed to places they normally don't go downtown, though this will likely change when COVID-19 is over. Certain buildings have a lot of supply of units. Plus, many people want to move into lower-density housing because of COVID-19. However, once we get a vaccine people will want to live in the higher density core again. So, this might be a good opportunity to look at higher density options – if not downtown maybe in other dense urban cores throughout the region, particularly on SkyTrains, like North Surrey, New Westminster or Metrotown, Burnaby. Once we have a vaccine, people will be more comfortable on transit and these places may significantly increase in value.
Tell me about presales – the whole idea is I get in now and don't have to pay the full ticket price until it's completed in a couple of years. By that time, it's hopefully a perfect storm with COVID-19 finished and the place is worth more. What are your thoughts? Are there any discounts on presales to be had? Are they flying off the shelf?
Presales are flying off the shelf, but if you look at certain developments in certain areas there are still some good deals. A project in North Vancouver called Apex where you're getting one-bedrooms in the high $400,000s is great – this is air conditioned, high-end, waterview stuff. There's Loma Coquitlam, where you're getting options for $310,000 – fantastic for investors. What I love about presales is that interest rates are low and, right now, there's some uncertainty in the market so people who would normally be more active aren't as much right now.
The Bank of Canada said they will keep an accommodative policy even after economic recovery is well underway. I think federal authorities will say nothing about housing affordability right now because they want to use housing to reflate the economy. If you invest in that, you could do well. We're starting to see talk of housing affordability in the BC provincial election, but the BC government has less power over what happens with real estate prices than I would argue the Federal government does. Right now it's an election cycle and they're talking about this sort of stuff.
Presales are a good thing to buy and we've been doing a lot of stuff at Apex and Loma, along with Habitat in East Vancouver and Format by Cressey, which is a fantastic value with one-bedrooms in the mid- $500,000s. We're working on that one right now.
How does Vancouver and its core compare to outlying Lower Mainland areas? Where do you see value there?
The Fraser Valley is still a fantastic option with very inexpensive options and good cap rates out there. This area is booming because it's a local economy. Victoria and the Okanagan are good, though the Okanagan is having a tough time because of what's happening in Alberta, but it will turn around. Also, if you look at BC, where do people want to live? They will likely choose Nanaimo or Calgary over Prince Albert, SK or Winnipeg. People want to live in BC and they will move here.
This seems to change almost monthly, but what's higher in demand or hotter with over-asking prices – houses, townhomes, or condos?
Right now, it's houses in areas further away from the core in places like Squamish, Nanaimo, Bowen Island, West Vancouver, the west side of Vancouver, or the Fraser Valley. Places that are lower density are really active and busy. Across the spectrum and different types of housing – you have single-family houses, condos and townhouses, in the core and further out. The closer into the core you get, the lower the sales ratio – this is the percentage of sales compared to the number of monthly listings. For instance, if you have 100 listings and 20 sales in a month, you have a 20% sales ratio. If you're above a 12% sales ratio for an extended period of time, you will see price increases. The sales ratios of townhouses and houses are higher than that of condos right now. I would argue this is because of COVID-19. This will change as it always does, but right now it's less dense housing options that are the most active.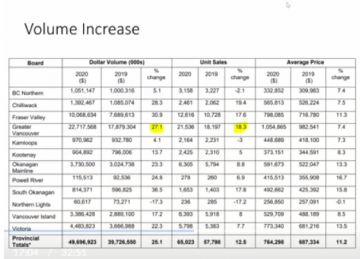 Questions
Where's the best place in terms of liveability and affordability right now? I'm looking for a presale townhouse and planning to transfer from Toronto.
It really depends on what your lifestyle is like and what's happening in your life. For townhouses, the city of Vancouver will probably be one of the most expensive places, but it will have fantastic liveability, proximity to great restaurants, shopping, and the downtown core. There are presale townhouse options across the region ranging from $400,000-500,000 in the Fraser Valley up to $2,000,000+ in the city itself. If you reach out to me directly afterwards, we can have a more meaningful discussion and I can make better recommendations with more detail from you.
Having a $500,000 budget (and as a first-time buyer), what's a better buy: a 2-bedroom apartment in Coquitlam, or a 3-bedroom townhouse in Langley?
The answer to this depends if you're looking for investment. For investment purposes, I always suggest smallest, cheapest, simplest, newest. So, instead of buying a big three-bedroom townhouse that you're only going to get, say, $2,000 for, take that money and buy something smaller where you get a higher rent. Look at what gets you the most rent or highest return. I'd say a two-bedroom condo in Coquitlam is probably better than a three-bedroom townhouse in Langley, unless you get a townhouse near where the SkyTrain is going in Langley – always go near a SkyTrain if possible.
Also, if you're a first-time buyer and you plan to live in the property, it's also a bit of a lifestyle decision. If you know you could live in the two-bedroom or three-bedroom and are looking for the most bang for your buck when you sell the place, you'll want to do a cost-benefit analysis based on history. You should know the ROI on the growth rate of two bedrooms in Coquitlam vs. three bedrooms in Langley, and if anything new is coming in – for example, the SkyTrain to Langley. Take a deeper dive and compare the products themselves – you need to know the age of the place, what the location is like, the contingency inside the building, etc. This is why I encourage people to work with an advisor.
Yes. And if you reach out to me afterwards, I can look at historical data and help you answer these questions much better.
What is the price range of both a one-bed, one-bath condo and a two-bed, two-bath condo downtown right now?
For a good quality, one-bedroom place that won't cause you a lot of hassle or costs for maintenance, you're looking in the low $500s, and a two-bedroom about $800,000. For investment purposes, a one-bedroom is better than a two-bed, two-bath. Think cheapest, simplest, smallest, best quality. If you have a choice between a two-bed with a terrace or two studios or one bedrooms lower down in the building that aren't as nice, go for the two studios or one-beds. Your rent will be higher for a smaller unit than for a bigger unit on a per square-foot basis, and your rent will be the same for a plain unit or for a fancy unit because people don't pay enough of a premium in rent to have a big balcony or a nice view that would make up for the cost of those things.
I 100% agree. I own multiple properties and if I have to pay an extra 20% for something with a better view, I won't make an extra 20% in rent to cover it. The bang for your buck really will be on cash flow. Again, you can work with an advisor to help you compare, and it boils down to the capitalization rate.
Mike mentioned presales (Habitat, Apex, etc.) and one-bedrooms in the downtown core as good options. Which is a better investment in the long term (cap rate, appreciation, etc.)?
The thing I like about Habitat is it's super close to the SkyTrain, and that area of East Broadway is basically becoming part of downtown Vancouver. If you look at what's happening with Midtown Central, Midtown Modern, and all of the buildings along there – it's all about the SkyTrain, and with it going to Main & Broadway, there are some good options in the area. Habitat is more expensive because of its location, but it's pretty good stuff. Apex is good because it's in North Vancouver and people want to be there, but it doesn't have SkyTrain nor does it look like it will get it. But it's inexpensive and it's new. In terms of capital appreciation, before COVID-19 it was the core and further out wasn't as good, but COVID has flipped that script. It really depends on what happens with the COVID vaccine, but, quite frankly, with anything in Greater Vancouver or the Fraser Valley, you'll do okay especially if you're holding for the long term.
I agree. With capital appreciation, it's not the stock market, it's not a quick fix for six months or a year. You've really got to be in it for a minimum of three to five years if you're an investor over here and you'll lose so much in so many different ways if you're not.
Do you have conversations with investors or Airbnbers about whether the end of their mortgage deferral has forced them to sell or if they're willing to ride out the pandemic?
It's not affecting prices of real estate; it's affecting the rental market. What's happened is the owners of properties are getting a huge discount on their interest rates, which pushes up the value of properties. Anyone having trouble renting their place can sell it in a market with lots of demand, but if they're holding and renting they're having issues as rents are going down right now. In the core of the city, there are very few furnished rental options with a cap rate that cash flows or makes a profit. There are so few Airbnbers because they're so restricted, so Airbnb rates are getting cheaper, too. You're not seeing people who are screwed and fire-selling their units; they're selling into an active market with demand so they don't have to give a huge discount to sell the property. We're not seeing an issue with the end of mortgage deferrals or the CERB because these owners have a higher income – the people who lost their jobs were mainly low-income earners and not property owners.
Were the prices quoted about downtown Vancouver based off of new properties?
No. They were for built, existing properties. There are very few presales in downtown Vancouver due to the market, the cost of land, and the political impediments to developing there. There are currently two presales downtown, but they're ultra-luxury, high-end and make zero sense from an investment perspective. Others do exist, but they're on hold because of COVID.
You can email Mike to ask him for the stats report I showed two pages of today, or call him up to ask your real estate questions. We're doing another webinar this month or next about getting financially organized and integrating real estate, and whether you should park money in the stock market or in real estate.
Don't try to time the market. If you're at the right place and time in your life and finances, think about buying your own place or investing, or at least starting the process. From what I've heard, it's predicted that interest rates will stay low. Right now, the 5-year fixed rate is under 2%! It's shocking – I'm looking at a 10-year fixed rate at 2.8%, and I heard of someone who got a 10-year at 2.5% a couple of weeks ago. Because these rates are so low and they're expected to stay that way, I can't see real estate not going up in the short term.
I do have my financial practice but am big into real estate. I own multiple properties and encourage my clients to also buy more real estate. I work with clients to review their strategy, ensure what they're doing is taking advantage of opportunities out there but in a very, very safe way.
My process is as follows: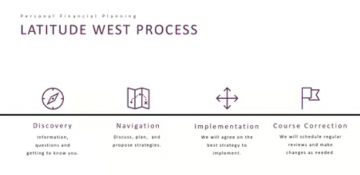 If you're thinking you need to get organized, whether in real estate or the stock market, it doesn't cost anything to have a Discovery meeting to figure out if there's a fit between us and for me to point you in the right direction or take you on as a client.
I do a cost-benefit analysis about owning properties, maybe 2 vs. 3 properties, to see if it makes sense and integrates into your plan.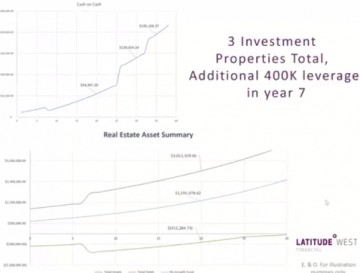 I encourage you to use an advisor – this is how people get wealthy!