Gardena Dr & Westley Ave, Coquitlam
Sales Status:

Inquire for details
Gardena Burquitlam Overview
Situated at the crossroads of Gardena Drive & Westley Avenue, Gardena, developed by Intracorp, emerges as a beacon of contemporary living. This iconic development in Burquitlam boasts two prominent towers, one soaring to 42 storeys and the other to 16, flanked by two 6-storey apartments. Altogether, Gardena promises to be home to 526 condominiums & townhomes in West Coquitlam, as well as an additional 218 apartments.
Prime Location and Connectivity
Gardena is not just about luxury but also about strategic positioning. A brisk 6-minute walk connects residents to the Burquitlam Station. Additionally, the new Bettie Allard YMCA is just around the corner. From shopping sprees at The City of Lougheed Shopping Centre to academic pursuits at SFU or leisurely days at Rocky Point Park, Gardena places everything within easy reach. Plus, Downtown Vancouver is a swift 42-minute SkyTrain journey away.
The Essence of Living at Gardena
Gardena Burquitlam encapsulates a harmonious blend of urban sophistication with nature's tranquility. The property, divided by a new road linking Claremont Street with Gardena Drive, offers diverse residential choices. Each structure in Gardena is adorned with shared amenities, ensuring residents indulge in a sprawling 28,521 sq ft of indoor and outdoor luxury.
Stepping outside the urban frenzy, Gardena stands as a serene sanctuary. With the Burquitlam Station merely 500m distant, connectivity is a breeze. The adjacent Bettie Allard YMCA offers a suite of facilities, ensuring an active lifestyle. The revamped Burquitlam Park, nearby shopping hubs like Safeway extra and Shoppers Drug Mart, and the soon-to-be-transformed City of Lougheed all contribute to the allure of Gardena Burquitlam.
Residential Amenities
Gardena is designed to cater to varied preferences, offering everything from studios to spacious 3-bedroom units. The amenities, spanning both towers, include gyms, yoga rooms, outdoor kitchens, and children's play areas. Furthermore, the underground parking facilities, equipped for electric vehicle charging, underline the modernity of Gardena Burquitlam.
The Developer Behind Gardena
Gardena Burquitlam is a masterpiece by Intracorp with its legacy since 1977, has been a trailblazer in residential developments across southern BC. Their collaboration with IBI Group Architects, known for sustainable urban designs since 1974, ensures architectural brilliance. Complementing this duo is Ste. Marie, a Vancouver-based design studio, celebrated for its transformative interior designs. Together, this triumvirate promises unparalleled excellence and innovation for Gardena Burquitlam.
Floor Plan & Pricing
Gardena Burquitlam is offering Jr. 1 Bedroom A Plans starting from $469,900 and Jr. 2 Bedroom C Plans starting from $736,900.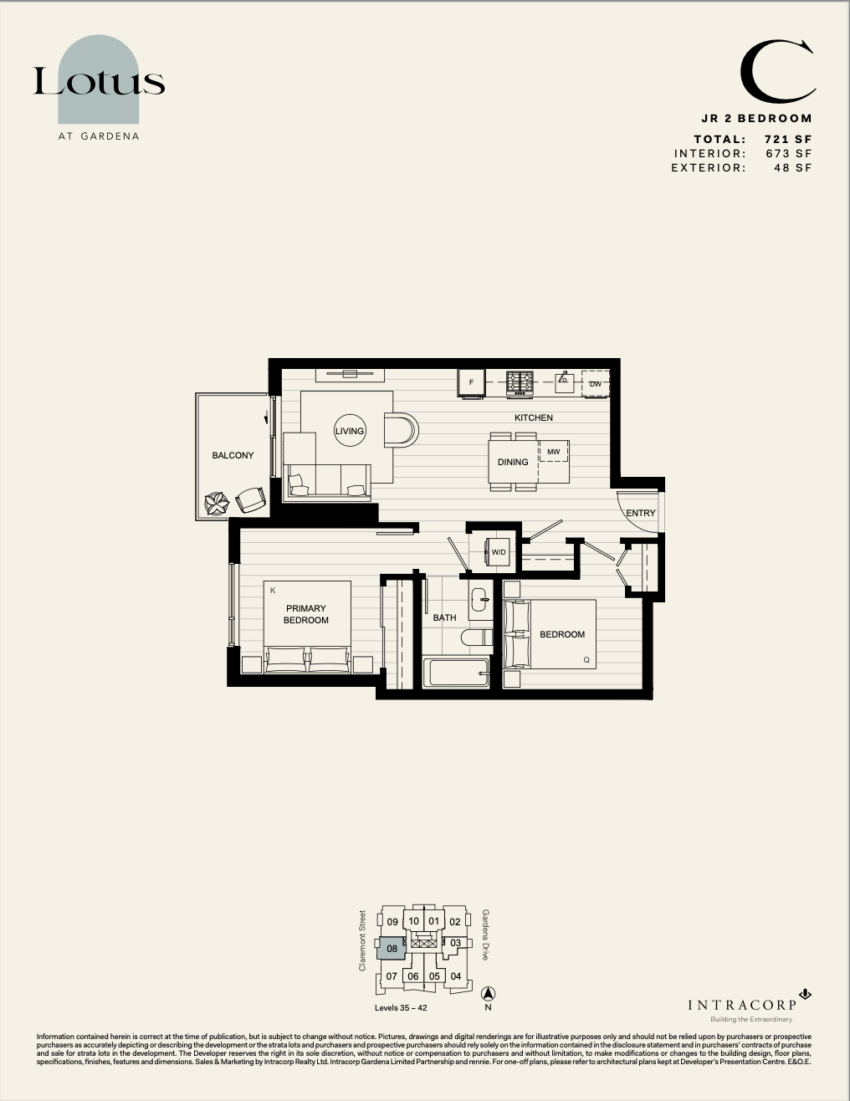 Completion
The curtain on the completion date for Gardena Burquitlam is yet to be announced. Meanwhile, for those exploring options in Maillardville, Burquitlam, or Burke Mountain, residences like Alina, Elmwood, and more.
Studio, 1, 2 & 3 bedroom units
3- & 4-level parkades + EV charging
Indoor & outdoor amenities
Short walk to Burquitlam SkyTrain Station
Indoor & outdoor amenities
New Bettie Allard YMCA; The City of Lougheed Shopping Centre; Simon Fraser University; Rocky Point Park; Downtown Vancouver amenities
In This Location
---
With These Tags
---
Burquitlam new development
,
Burquitlam new townhouses
,
Burquitlam SkyTrain Station Condo
,
Burquitlam Station
,
Burtquitlam New Condos
,
Coquitlam New Condos
,
Coquitlam New Condos Presale
,
Coquitlam New Homes
,
Coquitlam New Presale
,
Coquitlam Presale
,
Coquitlam Presale Condos
,
Coquitlam townhomes
,
Coquitlam townhouses