'Hot Areas to Invest in Vancouver' February Webinar
Hot Areas to Invest in Vancouver
February 11, 2021
Christian Dy, Latitude West Financial
Mike Stewart, Oakwyn Realty Downtown
Top producing realtor since 2005
vancouvernewcondos.com or mikestewart.ca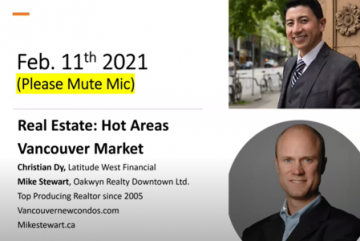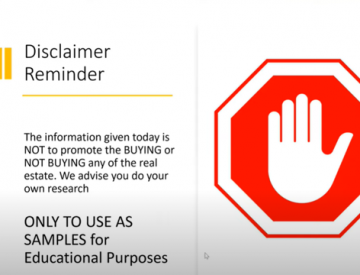 Market update
January 2021 listings were up 86% from December, one month prior. This is 15.7% higher than in January 2020, so the year will be busy and we're already off and running strongly.

Analysts predict sales prices trend downwards when the Sales to Listings ratio is below 12%. When this ratio is above 20%, sales prices will likely trend upward.

November 2020: we had detached homes at 27.9%, townhomes at 40.1%, and condos and 23.9%

December 2020: detached homes were 35.2%, townhomes were 50.4%, and condos were 33.1%.

In January this year, we went to 26.3%, 37.6%, and 27.8%, respectively. Although this is cooler than December, I think that's because a lot more active listings have started to come up.

There are no signs of prices going down, but we do see a lot more listings coming on the market which is a good thing for buyers who want options, and for those who want more confidence when looking to sell because they'll have something available to buy.
The Real Estate Board of Greater Vancouver provided the below stats. Connect with Mike to get a copy of the full report. The one-year change average was positive across the board and is trending up. The three-year was flat in some areas, at just 1-2%, but that's because if you draw a straight line you can see we really peaked in 2017-2018. Now, we're reaching or surpassing those peak prices.
Yes, it's interesting what's happening with a real change in the market and we're now seeing it in the stats. Keep in mind when looking at stats is that it's very much like using a rearview mirror to drive: you know what's behind you and what's happened, but you can't look too far down the highway to see what's happening. My crystal ball is as good as your crystal ball and anyone else's. What we do know is what's happening right in front of the car, or in the market right now.
We're seeing a very active market, but it's somewhat uneven. Certain markets are on fire and others are relatively soft. Single-family houses in Vancouver are extremely hot, particularly East Vancouver because there's a broader audience of people who can afford it compared to the West side. The North Shore is extremely busy for single-family houses, but we're not necessarily seeing that for condos, which were fairly soft during COVID-19. Where we saw downward price pressure, we saw big, big drops in volume, but now those volumes are back up and at prices higher than they were before COVID-19. This is the case for properties in some cases. We're now seeing upward pressure and multiple offers for properties that are priced well, presented well, and easy to show – particularly larger condos or attached houses.
I wanted to do a comparison between single-family detached houses and condos. The one-year change for single detached houses in Greater Vancouver was 11%, North Vancouver was 12%, and Port Moody 14.5%
The same thing for apartments in these locations was 2.2% for Greater Vancouver, 5.9% for North Vancouver, and 2.9% for Port Moody. This is a lot less across the board, and condos just aren't as hot right now.
Do you think there is an opportunity in the condo market, or is there a reason they haven't gone up that much?
There absolutely is an opportunity with condos right now. Because of COVID-19, everyone wants larger spaces to work from home, but I don't think people will be doing this forever. People will want to be in urban, high density neighbourhoods once the vaccine is widely distributed. People will get sick of being by themselves – a lot of people are struggling with mental health and isolation. What keeps people from that struggle is a community feeling, friendship bonds, and companionship they get from going to the office or to work. Many people aren't happy working from home. I think we'll see people in condos again, either renting or buying, throughout the region and they'll be less excited about large, further out and isolated properties because they want to go to the office. Employers will change their tune because they'll want their staff to come in to work. From what I've read, businesses and institutions do best with people close together who can interact quickly and efficiently in ways where you can see body language and understand what people are getting at in ways you don't get from a Zoom meeting.
So, I think we'll definitely see upward pressure on prices when condos come back. The thing to think about is the Bank of Canada has said they'll keep interest rates incredibly low, at least until 2023. Once the COVID vaccine is distributed throughout the population, those super low interest rates will still be there. Two other things will happen: immigration and tourism will start up again and create massive demand for high density, urban properties because when new immigrants come to Canada, they typically rent or buy apartments. Same with tourism – many people stay in short-term rentals when they come here. Now is definitely an opportune time to buy a condo.
Absolutely. I've pulled this real estate forecast and I tend to agree, the markets will continue to go up for all the reasons you've mentioned. We're in an interesting position.
Things change so quickly, which is why we do a monthly update. Every single month, something has changed. What have you seen change, even from just a month ago?
There's an interesting meme on social media with two pictures of a Barbie doll. One is the type of realtors in our current market. The Barbie on the left was the sellers' agent and looked perfectly groomed. The buyers' agent had a black eye, a face mask, and her hair was askew. What it meant was that sellers' agents are having a relatively easy time because their listings are selling quickly, whereas buyers' agents are getting beaten up if they're not prepared to move forward with a subject-free offer, because of the multiple offer situations we're seeing.
All of my colleagues are having challenges. We're putting deals together, but it's more difficult when you're representing buyers. In this market, particularly for single-family houses, large condos, and high-demand properties, you need to do your due diligence beforehand. This means getting your mortgage broker all the paperwork they need, so you can put in a subject-free offer. If the property is competitive, do your home inspection and read those documents beforehand. Typically, we get an accepted offer and you have 7 days to get your financing and home inspection and read the documents. In this market, for single-family houses and condos in many areas, you better do this stuff first and then submit your offer subject-free.
It's an ugly time to be a buyer that needs to buy, for instance someone who sold two months ago and is looking for something else amid this frenzy. I feel for these people – they need to go in with heavy offers. Even in one month, things are going for well over asking, like $50,000 to $100,000 over. But, is there an opportunity for people, such as retiring parents, who are downsizing from a house and want to potentially go into a condo?
Yes, if you've got a single-family house in a hot area, buying first and selling after can often be a good way to dramatically increase your equity (if you're going to take this course of action, be sure to consult with a realtor beforehand because there is an element of risk). In the past, I've bought first – I was in an expensive, dramatically rising market going up by about 20% per month – and then got my property ready to sell. I sold it with about a $400,000-500,000 gain because property prices were going up so quickly. If you're in this situation, speak to your realtor, financial planner, mortgage broker, and accountant to make sure it's a sustainable, low-risk plan. Buying first or buying a presale in a rising market can be a great way to do well in real estate. People usually sell first and then buy, but it doesn't have to work that way.
Consider this: you have a single-family house worth $2, which is going up by 20% per year, and you want to buy a condo worth $1. You could buy a condo now and wait a year for your house to increase by 20% to $2.40, but if you sell right away you miss out on that $0.40 gain. But, again, this is very high risk, so you need to consult with your team of experts.
You definitely do if you're going to do something like that because of the high cost of bridge financing.
Where are some areas you're seeing deals or undervalued properties that may not last too long?
It's getting challenging to find this now, since interest rates are so low. You can get an insured variable rate mortgage for 0.99%, which is amazing! Or, a 5-year fixed mortgage for 1.59% (which I've seen) or 1.49% or even 1.39% (which I've heard about).
If you're an aggressive investor, the real deals would be assignments of contract which are difficult for people to sell. I have an accepted offer on an assignment; we're waiting for developer permission and it's a very good deal. Another option is condos that may be dated but in a good building, particularly in the downtown core or the West End. Pretty much all single-family houses across the region are in a strong seller's market, which is very challenging – the deals are mostly in condos.
Is it a good time to upgrade? If you sell your place and it's your primary residence, you still need to move elsewhere. Should the person considering that be someone who's upgrading or downgrading? Should they buy first and then sell, or the opposite?
What I'm telling people is to start looking for something to buy now. It's kind of a wash if you're making a lateral move because you're basically buying the same thing. In a market like this, it's typically easier to sell and harder to buy, whereas in a soft market it's harder to sell and easier to buy. So, make sure you go out and look for what you want to buy, so you can get what you want when you sell. The last thing you want is to sell your property and not find something you want, so you're sitting on cash, because in a rising market, the value of that cash goes down every time the value of real estate goes up. You'll lose out.
Upsizing right now is relatively challenging because condos aren't as hot as single-family houses, but it's been the opposite at different times. Right now, people want big spaces. I think that will change when the vaccine gets rolled out, and maybe that will be the right time to upsize to a single-family house because condos will get really hot once things go back to normal and houses may soften. There are opportunities but, again, my crystal ball is as good as yours.
Latitude West
Our philosophy is to not put all of your money in the stock market. Many financial advisors work this way, but not us. We love real estate and believe in a mix of it with stocks and cash reserves or fixed income. If you're incorporated, there are even more opportunities.
An example of the types of clients that we serve include newlyweds, each of whom own a condo. They want to start a family and upgrade their home and face the following options:
Sell both and upgrade

Keep both as rentals and save up for a down payment on an upgraded home

Keep one as a rental and sell the other for a down payment, but which one?
So many financial advisors can't help with this question. They can't do the analysis well enough and just speculate with their opinion. But, me and my advisors do a cost-benefit analysis to figure it out. This example is just a personal home, but if you have investment real estate or want to try to build a real estate portfolio, you need someone who's qualified to do good real estate analysis compared to what your money would do in other investment vehicles like the stock market.
We tell clients not to try to time the market. Right now, rates are staying low but demand will end up being high. We review strategies for our clients, and if you'd like to talk please reach out – it doesn't cost anything to see if there's a fit and if I can help you out.
How has the downtown condo market been since September 2020, specifically for one-bedrooms?
Typically, in a normal, non-COVID market, one-bedrooms are the hottest first because they have such a broad audience: first-time buyers, investors, etc. A lot of people like them. But they're not as hot as single-family houses right now because of COVID. That is starting to change and we're seeing multiple offer situations for high-quality, well-priced product.
But, in certain buildings and areas, particularly more expensive options around the high $600,000s to the mid-$700,000s, there's a lot of supply. At a personal favourite of mine, Arc by Concord Pacific, there are about 21 listings in its two towers and most are one-bedrooms. So, one-bedrooms are doing okay and are selling for fairly good prices, but they're a little softer than what they could be and compared to what's happening with single-family houses in Vancouver, the Fraser Valley, and other places.
Is Vancouver West still pretty hot for single-family houses below $3 million?
Yes, 100%. That market is very active, and we're seeing the [rice point going up. For a while in Kitsilano, you could get an old single-family house in pretty rough shape for just under $2 million. Now, it's $2.3-2.5 and up. There is lots of local demand. Markets have picked up for premium places, such as West Vancouver and the west side of Vancouver for properties over $3 million, but it's not like it was before the foreign buyers' tax, which is now 20%. We don't have a lot of active foreign buyers right now (despite what some media outlets say). That under $3 million mark on the west side is quite active, and it's definitely a seller's market there – quite challenging if you're a buyer.
Basically, when you have a government that doesn't want to see large upzoning and development, it just restricts the supply of housing and pushes up the prices of properties. A single-family home on the west side is a fantastic thing to own and a great asset.
Yes, the challenge is the bidding. If something is hot, especially at a price point a lot of people can afford with the new lower rates, I think finding the right property is the toughest challenge. But, if you're a seller and you have a place to go or have your eye on a market that's a bit cooler, you're probably in a pretty fantastic position.