'Hot Areas to Invest in Vancouver' December Webinar
Hot Areas to Invest in Vancouver
December 17, 2020
Christian Dy, Latitude West Financial
Mike Stewart, Oakwyn Realty Downtown
Top producing realtor since 2005
vancouvernewcondos.com or mikestewart.ca
Market update
Real estate in Vancouver is doing very well.

November sales are up 24.6% above the 10-year average. Only twice in the past 10 years has this actually happened.

Analysts are predicting sales prices will go down when the sales-to-listing ratio (sales divided by listings) is below 12. The higher the number, the greater the upward pressure on prices. Right now in Vancouver, we're at 27.9% for detached homes, 40% for townhouses, and 23.9% for condos.
What does this mean for 2021? With the low interest rate environment, prices shouldn't be going down. Things are heating up; I've got clients getting outbid right now. The market is trending up for those looking to sell. 
As compared to the stock markets:
2020 was a fantastic time to be in the markets if you were putting new money in when COVID hit from March-June, but the markets have really recovered and we're back to pre-COVID levels.

If you need to move money, is the stock market good for new money right now? Tom Lee from Fundstrat says there will be a cooling pulling back period in quarter 1. This makes sense because so many things went up so much, so fast (e.g. Disney, Tesla). He believes by the end of the year, we'll be back to normal market conditions and finish strong by quarter 4.

But I'm looking at real estate—I think it's the better opportunity in 2021 especially with the low interest rates.
 Real estate prices in the Lower Mainland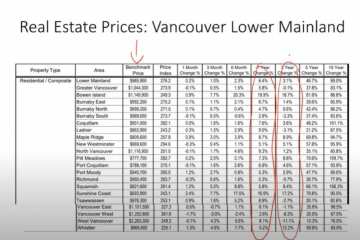 If we look at the statistics of benchmark residential prices right now compared to the one-year change, every single one-year change is up from last year. The three-year change is up and down but mostly hovers near zero. Depending on the area, we're kind of at 2017 pricing—for example, Vancouver East at -1.1% is basically what we had back then. However, West Vancouver is actually down 11% from three years ago. So, there are opportunities out there for some fairly good deals. If you're wondering whether we're headed for a crash, take a look at the five and ten-year changes—in the short term there could be some volatility, but in the long term, our market has always been strong and not in the negative over this time period.
Yes, in 2017 many markets peaked. Some markets, particularly West Vancouver, the west side of Vancouver, Richmond, and other places highly affected by the overseas money flowing in before the foreign buyers' tax was implemented, experienced price declines from 2016 and 2017 . The west side of Vancouver has really picked up. Even though Richmond and West Vancouver haven't, I do think they will too because of what's happening in markets like East Vancouver, North Vancouver, and various other single-family home neighbourhoods.
We're seeing competing offers and these markets going absolutely crazy—I had a client looking at a 1985, 3,500 square-foot three-bed, two-bath house on a 6,000 square-foot lot in the Grand Boulevard area in immaculate condition, listed at $1.599 million and sold for $1.905 million. Just last week, I had clients purchase a house in East Vancouver in the Broad View area—it was 1,912 square feet on a 33×122 lot  with water views—listed at $1.399 million and bought for $1.635 million.
The single-family house market is on fire right now, though we're not seeing that across the board.
I think it depends on the area and on what it is. Just this last week, a family member put in an offer on a house, and she fits the profile of many people: lived in a townhouse that's probably worth $850,000 and wanted to upgrade to a house that's listed at about $1.3 million. She knew there would be multiple offers and put her best foot forward by offering $100,000 over asking, but she was out-bid. It depends on how things are priced; this is just one story about one person, but it is an indication of what's going on.
What is happening right now with Vancouver real estate?
We're seeing a very uneven market situation. For anything that's low density and offers people the opportunity for physical distancing, we've seen significant rises in sales and sales ratios. The most recent stats mention areas we've discussed before, like the Sunshine Coast and Gulf Islands—we're seeing the largest year-over-year increase in demand on the Sunshine Coast. This past November, it saw 106 home sales – an 82.8% increase from November 2019. There are huge surges in sales and prices there and in places like the Fraser Valley, Squamish, and the Okanagan.
Locally-oriented markets like East and North Vancouver are seeing multiple offers on single-family houses, whereas condos in downtown Vancouver have been very soft until quite recently. I do a lot of business there and up until about three weeks ago, listings were dead and people were getting very good prices downtown.
We're basically seeing high-density places with lower sales ratios than low-density places, but, interestingly, it isn't uniform. Huge demand is in places more affordable to the local market, whereas places like West Vancouver and the west side of Vancouver aren't so hot – particularly West Vancouver, which is a soft and quiet buyers' market right now – you can negotiate on price. You can also negotiate on price for downtown properties—one-bedrooms were very slow and now the sales activity is at a lower price point than it would have been in 2017 and, unfortunately, late last year. 
For properties that are priced right, how are discounts looking? Should we be going in at asking? 95% of asking?
It really depends on the property. You can negotiate more on larger condos than smaller ones. If you're not competing, there's no need to go in over-asking. Talk to your realtor and let them help you understand what's happening in the market and the particular situation of the place you're looking at. A good realtor can advise you on how to get the property in the way you want to—not everyone wants to be involved in a multiple-offer situation. Some do, but the key is to talk to your realtor.
Get out and look at places over the holidays—it's a good time for buyers because many sellers still out there are extremely motivated. A lot of people just aren't doing much because of COVID and the holiday season; they're distracted by family stuff.
If people are considering a purchase but aren't pre-approved, they should do so to get these low interest rates! For 120 days from pre-approval, you still get the lower rate even if it goes down further. It also helps because you'll know what you qualify for—there's no sense in putting in a bid otherwise.
For the 2021 future outlook, there's no sign that prices will go down, but which areas of the Lower Mainland will be strong? Where should people be nervous about where bidding wars could start up again?
I think across the board, everything will boom and see increased demand. Right now, high density stuff has a lower sales ratio but once the vaccine rolls out, many people will be tired of low density living and feeling isolated and bored. They'll want to live in the downtown core and we'll see a revitalization there. Right now, you want to buy stuff people don't currently want but that they do normally want, which is in the downtown core.
HSBC came out with a 0.99% mortgage, which is unprecedented. It is an insured mortgage, so you must put down less than 20%, but still! They are also offering a 1.395% fixed, and 1.595% fixed mortgages are everywhere. With these ultra-low interest rates combined with the amount of stimulus going into the economy in the form of quantitative easing (basically, printing money and massive deficit spending of the provincial and federal governments), the real estate market can really go nowhere but up.
So, even though low density is currently in higher demand than high density, that could change with the vaccine and people feeling more comfortable living downtown. Another reason why apartment condos are a really good deal right now is because the people who own and rent them out, particularly furnished rentals, are having issues because:
They typically rely on a lot of immigrant tenants who tend to rent and live in the core of a city before getting to know it and purchasing property in the suburbs—but there is no immigration right now. This also applies to international students, who rent suites in the core of the city near educational institutions, but we don't have these students right now, and

Since there is no travel, there are currently little to no Airbnb or other vacation rentals.
So, it's a good time to buy a revenue property in a location with immigration, foreign students, and Airbnb. Sellers are having trouble but still might have to sell, so they'll go for less than what they would have in 2017 or 2019.
Detached houses are a great bet because they're not making any more of them or building on new land. If anything, the amount of lots is constricting every time a condo building is constructed because they're primarily built on assembled single-family house lots.
With the unprecedented stimulus going into the economy, you'll see the real estate market boom. I'll be buying revenue properties in the next few months, along with a larger house. If you get a $600,000 revenue property at 1.59% with a 25-year amortization, just your principal payment will pay down almost your whole down payment in five years (about $100,000 or $20,000 per year in principal). It's shocking.
I want to expand my portfolio and take advantage of these rates and the wonderful things going on. Take a look at what people don't want right now—the problem is when people chase the things that everyone else wants because that's when you see bidding wars and upward prices. The cycle will shift again.
Yes, it will. I've seen it shift so many times.
This is the time to buy condos. We've also been looking at single-family houses in the Okanagan—in Kelowna, you can get them for $750,000 and if you're lucky, you'll earn $3,500 in rent each month. With 20% down, it's cash-flowing. The reason why these low interest rates are so powerful is they're making housing so much more affordable for so many people—the principal paydown on these 1-1.59% mortgages is unprecedented. It's better than renting, because you're getting back 70% of your mortgage payment.
Latitude West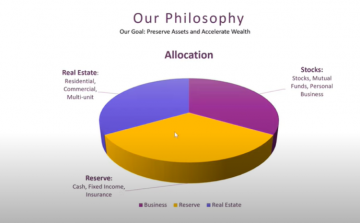 To accelerate your wealth, my philosophy at Latitude West is not putting all of your money in the stock market. Some people at high levels do make money this way, but I think the average person will do best using this formula with some money in the stock market and some in real estate, and not just in your own property but in more than one property. You also need access to cash in reserve to take advantage of opportunities either in the stock market (like we did in March) or in real estate, like I think we'll be doing in 2021.
I invite you to look outside your narrow view of investing and to talk to and work with someone like myself.
Here are some case studies of my typical clients.
Newlyweds, each of whom own a condo

They want to start a family and upgrade their home

Options:

Sell both and upgrade

Keep both as rentals and save up for a down payment on an upgraded home

Keep one as a rental and sell the other for a down payment, but which one?
This is a perfect example that's literally valued at hundreds of thousands of dollars if they make the wrong move or make a mistake!
There is no clear answer unless they do a cost-benefit analysis with multiple pieces of information, such as interest rates, growth rates, and locations, which is something I do with my clients. They know the options but aren't sure what to do. I wouldn't take any advisor's advice without a cost-benefit analysis to back it up.
Another example is with the many professionals I work with, like dentists and doctors. They may own a successful practice, be personally incorporated, and have two real estate properties and some stocks. They want to buy more real estate, but they also fall into a high tax bracket and would like to see it lower. To obtain a down payment, their options could be to sell stocks, sell an existing property, or leverage off of existing real estate. They also need to decide whether this gets done through a holding company, a joint venture, or owning the property themselves.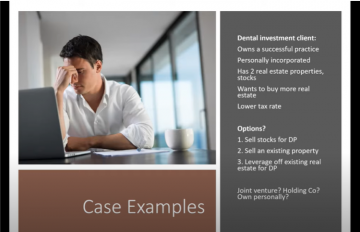 These are smart people who may not have the background or analytical experience to know the best option, and this goes far beyond mutual fund investing—it's high-level analysis and it's what I do for my clients who mostly come to me for my real estate experience. This analysis is what professionals are there for and I encourage you to contact me if you're in this type of scenario.
You may have exhausted the resources of your financial team and need someone more specialized who can, for instance, show you the value of having two properties vs. three depending on your financial and job situations, and your goals.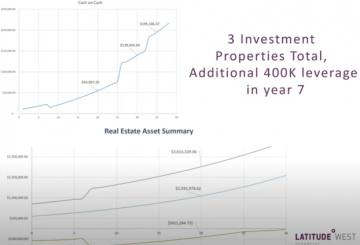 I invite you to use not just an advisor but the correct advisor—statistically, people's wealth goes up further when they don't try to do things on their own and use an advisor. There have been numerous studies showing this. I show clients strategies that they've never even heard of, especially if they're incorporated with an operating company they're turning into a holding company.
Final thoughts:
Don't try to time the real estate or stock markets – instead, use good advisors with strategies to guide you.

Because interest rates will stay very low, demand for real estate will be very high in 2021, and I can't see prices going down.

I review my clients' strategies to ensure they're taking advantage of opportunities in a safe way. Set up a phone call with me to see how I can add value and if what you're currently investing in makes sense.