5377 Willow St, Vancouver West
Sales Status:

Inquire for details
York by Listraor Townhomes Overview
York by Listraor is a distinguished residential development situated at 5377 Willow Street, introducing 29 presale townhomes on Vancouver's West Side. This project is a harmonious blend of New York-inspired architecture and Vancouver's urban charm. Nestled in the South Cambie neighbourhood, at the junction of Willow Street and West 37th Avenue, York offers residents the luxury of city living with the tranquility of nature.
Design and Features
York by Listraor boasts six woodframe buildings, encapsulating a total of 29 three-storey townhomes. Each of these homes is meticulously designed with three bedrooms, a private patio, and a roof deck. Furthermore, residents benefit from direct access to an underground parking level, which also houses storage facilities for up to 101 bicycles.
Neighbourhood Amenities
York's prime location places it at the intersection of two major bike routes, making it a haven for cycling enthusiasts. Directly opposite the development is Oak Meadows Park, offering residents a green escape in the heart of the city. Additionally, the esteemed Eric Hamber Secondary School is just a stone's throw away. For those seeking more extensive green spaces, the VanDusen Botanical Garden and the diverse amenities of Queen Elizabeth Park are in close proximity. The Canada Line ensures easy connectivity, and the upcoming Oakridge Park, located just 500m away, is set to become a major shopping and entertainment hub, boasting 1 million sq ft of retail space, a community centre, and a music venue.
York by Listraor Floor Plans
Potential homeowners can select from a range of floor plans tailored to their needs. One such example, "PLAN A", spans between 1,601 to 1,621 sq ft, encompassing three bedrooms, 2½ bathrooms, a den, and a flex space. Central to the development is a beautifully landscaped courtyard, providing a communal space for residents to relax and socialize.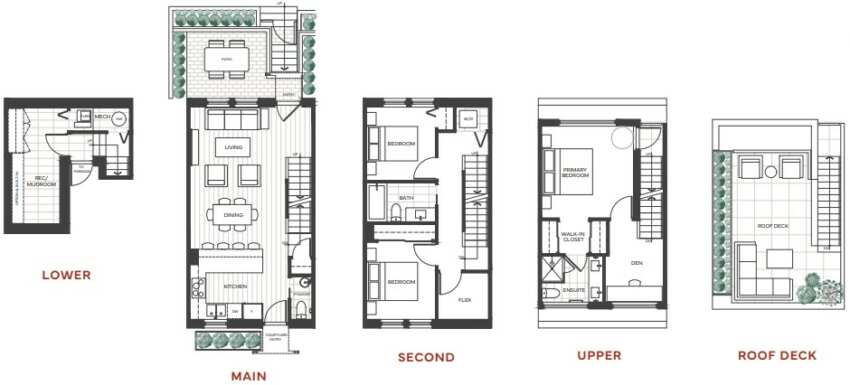 Parking and Storage
York by Listraor ensures that each home is equipped with parking facilities on an underground level, directly accessible from the residence. In addition to car parking, there's ample storage to accommodate up to 101 bicycles, catering to the city's growing cycling community.
About the Developer
Behind the York development is Listraor, a family-owned and managed consortium with deep roots tracing back to a farm in Ireland that remained in the family for over 350 years. Since its inception in 1994, the Listraor Group has been dedicated to crafting unique and exceptional projects in prime Metro Vancouver locations. Their expertise is evident from their portfolio of successfully completed townhome projects in the neighbourhood, including Aston, Bennett, Flora, and Perron.
Architectural Brilliance
The architectural design of York is the brainchild of Baldwin & Franklin Architects. This Canadian firm, with an international reputation, is known for its imaginative yet practical designs. With over three decades of collaboration, their compact team, supplemented by a global network of professionals, is adept at handling a diverse range of architectural projects.
Project Timeline
York by Listraor is set to be completed by the summer of 2025, ensuring that residents can soon enjoy the blend of luxury and convenience that York promises.
Underground parking w/ direct home access
Private patio & rooftop deck; Central shared courtyard
Oakridge Park, Oak Meadows Park, Queen Elizabeth Park
Close to bus routes & the Canada Line
Private patio & rooftop deck; Central shared courtyard
Eric Hamber Secondary School; VanDusen Botanical Garden; Queen Elizabeth Park amenities
In This Location
---
With These Tags
---
Warranty
---
New homes in BC are covered by warranty… Read more
7 Day Rescission Period BC… Read more