Samar Crescent & Constellation Avenue, Langford, Vancouver South Island
Sales Status:

Inquire for details
Solaris Langford: The Pinnacle of Modern Living
Solaris Langford, situated at the crossroads of Samar Crescent & Constellation Avenue, is a beacon of contemporary residential design. A part of the Westhills community, this development will feature two 5- & 6-storey buildings and is set to house 130 presale condominiums in Victoria.
Prime Location
Nestled within the expansive 500-acre Westhills master-planned community, Solaris Langford is a stone's throw away from community K-12 schools, the local YMCA/YWCA, and the Langford arena. Residents can enjoy the proximity to parks, trails, and the Westshore Town Centre shopping, which is just a 5-minute drive away. The picturesque Colwood Beach is also a mere 15 minutes away.
Solaris Langford is more than just a place to live; it's a lifestyle statement. The condominiums, ranging from studios to 2-bedroom + den homes, including select penthouses, are designed to cater to diverse lifestyles. The building boasts a vast landscaped courtyard, complete with outdoor dining areas, firepit lounges, and an exercise area. An added perk for residents is the shared use of two cargo e-bikes.
Community Amenities
The Westhills community, where Solaris Langford is located, is a haven for those seeking a balanced life. The community is designed to reduce automobile dependency, with two retail centres ensuring that daily necessities are always within reach. It also offers live-work spaces, schools, and recreational facilities like the City Centre Park. The park features the Eagle Ridge Community Centre, a splash park, bowling alley, mini-golf course, Westhills Arena, and Starlight Stadium. For fitness enthusiasts, the Westhills YMCA/YWCA offers a range of activities, and outdoor enthusiasts can indulge in activities at Jordie Lunn Bike Park, Langford Lake, Goldstream Park, and the E&N Trail.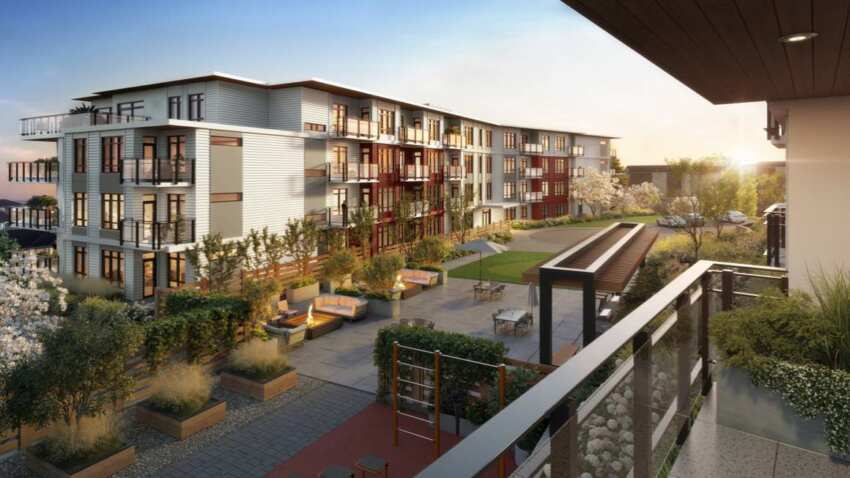 Interiors and Floor Plans
The interiors of Solaris Langford exude sophistication. Residents can choose between two colour palettes: Aura or Halo. The design emphasizes comfort and style, with features like wide plank oak-inspired laminate wood flooring, designer carpets in bedrooms, and cutting-edge kitchen appliances. With 130 condominiums on offer, there's a floor plan to suit every need.
Additional Amenities
Solaris Langford ensures that residents have access to top-notch amenities. The landscaped courtyard is a highlight, equipped with a kitchen, built-in gas barbeques, al fresco dining area, gas firepits, herb garden, and an exercise area. For convenience, there's a dog wash station and parcel lockers for residents.
Parking and Storage
Every home in Solaris Langford comes with an EV-ready vehicle parking space. Additionally, provisions for bicycle storage and storage lockers are available. Residents also benefit from car and bike wash stalls and shared electric carrier bikes by RAD Power Bikes.
Developer Team
Solaris Langford is a masterpiece crafted by the renowned Victoria-based Westhills Land Corp., a leader in new home development on Vancouver Island. The architectural design is credited to dHKarchitects, known for their innovative and collaborative approach.
Completion Date
Prospective residents can look forward to moving into their dream homes in Solaris Langford by Summer 2024.
Bike storage & storage lockers available
Studio to 2-bedroom + den condos + a select number of penthouse suites
1 parking stall + EV included
Parcel lockers & pet wash station; Common landscaped courtyard w/ gazebo-covered kitchen, 2 built-in barbeques, dinning area, 2 fire pits, lounge seating, planters, exercise space, lawn
Parcel lockers & pet wash station; Common landscaped courtyard w/ gazebo-covered kitchen, 2 built-in barbeques, dinning area, 2 fire pits, lounge seating, planters, exercise space, lawn
k-12 schools, parks, trails, hikes, the beach, recreation centres, fitness centres, shopping, outdoor activities
In This Location
---
With These Tags
---
Langford
,
Langford BC
,
Langford pre-construction condos
,
Langford presale condos
,
New Victoria Condos
,
Victoria Condo
,
Victoria Condos
,
Victoria New Condos
,
Victoria New Condos Presale
,
Victoria New Development
,
Victoria New Presale
,
Victoria Presale Condo
,
Victoria presale condos
,
Victoria presales