8423 Cedar Street, Mission
Sales Status:

Inquire for details
Silver & Cedar Mission: The Epitome of Luxurious Living in Cedar Valley
Welcome to Silver & Cedar, a prestigious 6-storey woodframe presale condominium development in Mission that promises a life of luxury and convenience. Developed by the renowned Redekop | Faye, this residential haven is situated at 8423 Cedar Street in the Cedar Valley neighbourhood of Mission. With 98 meticulously designed condominiums, Silver & Cedar Mission is the epitome of modern living. Silver & Cedar Mission is not just a residential project; it's a community designed for a high-quality life. With its strategic location, diverse floor plans, state-of-the-art amenities, and competitive pricing, it offers an unparalleled living experience in Cedar Valley.
Location: The Heart of Cedar Valley
Nestled in the heart of Cedar Valley, Silver & Cedar Mission offers an unparalleled location advantage. For families with children, Albert McMahon Elementary School is just across the street, making school runs a breeze. The development is surrounded by lush parks such as Griner Park and Centennial Park, offering ample recreational opportunities. For shopping and dining, The Junction shopping center and Mission's quaint downtown are merely a 5-minute drive away as is the Westcoast Express Mission City commuter train station with direct access to Downtown Vancouver and Port Moody.
Amenities: More Than Just a Home
Silver & Cedar Mission goes beyond providing just a roof over your head. The development features two levels of parking, accommodating 149 vehicles and 50 bicycles.What sets this development apart is the 28-space child care center located at the ground level, making it convenient for young families. Fitness enthusiasts will appreciate the well-equipped gym, designed to cater to a variety of workout regimes.
Interior Design and Floor Plans: A Space for Everyone
Step inside a Silver & Cedar Mission condo, and you'll be greeted by open-concept living spaces that exude elegance. Generously-sized windows flood the rooms with natural light, while the kitchens boast of quartz countertops, polished chrome fixtures, and matching hardware.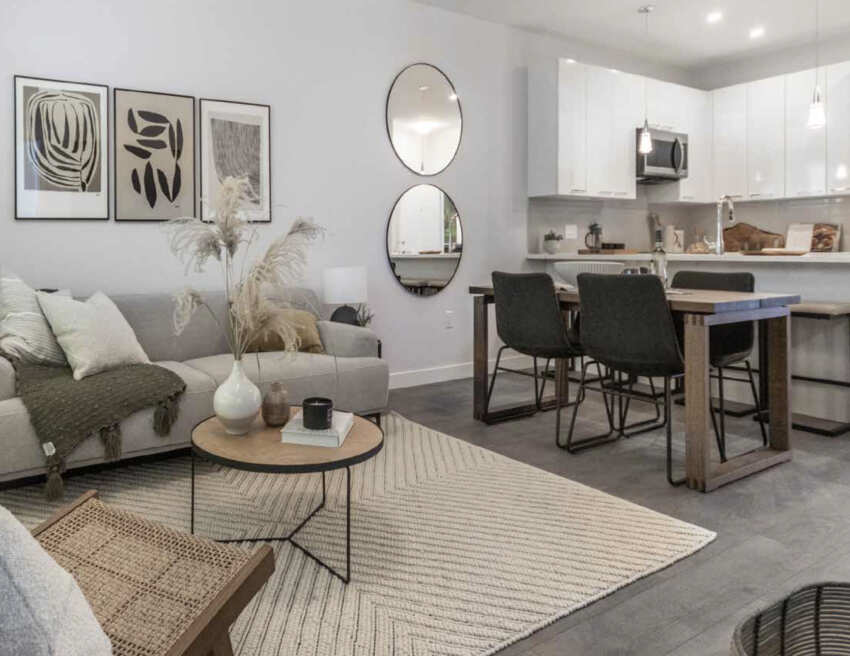 Floor Plans
The development offers a plethora of floor plans to cater to diverse needs. Whether you're a single professional or a growing family, you'll find a space that's just right for you. The 48 studios and 1-bedroom suites range from 430 – 553 sq ft. For those needing more space, fifty 2-bedroom homes offer interiors from 712 – 819 sq ft.
Pricing and Special Offers
Starting at an attractive price of $369,900, Silver & Cedar Mission offers an excellent opportunity for home ownership. For those interested in staying updated, a VIP list is available for priority access to all Silver & Cedar updates.
A1 1 BED | 1 BATH | 442 Sq Ft | $359,900 (Limited Quantity Available)
1 BED | 1 BATH | 464 Sq Ft | $369,900
1 BED + FLEX | 1 BATH | 515 Sq Ft | $399,900
JR 2 BED | 1 BATH | 536-546 Sq Ft | $419,900
2 BED | 2 BATH | 679 – 728 Sq Ft | $489,900
Ample Parking and Storage
The development offers extensive parking options, including 104 resident vehicle stalls underground. Bicycle storage is also taken care of, with 44 underground spaces and an additional 6 at ground level.
Experienced Development Team
With over 50 years of combined experience in the construction and development industry, Redekop | Faye has a legacy of building quality homes. They have completed over 5,000 multi-family homes throughout BC, including notable projects like Preston on Fourteenth, Jacob, and The Jericho.
The architectural design is helmed by Trio Architectural Design, a firm formed in 2006 that has experienced rapid growth since its inception. Trio combines client requirements with imagination to create designs that meet the standards and needs of the client, the community, and the environment. They have served a wide range of clients throughout British Columbia, making them a versatile and reliable choice for architectural design.
1 & 2 bedroom condos from 430 to 819 sf
Well-equipped gym & child care facility
Griner Park, Centennial Park, Fraser River Heritage Park
Well-equipped gym & child care facility
Mission's Downtown shops, restaurants, services; Albert McMahon Elementary School; The Junction Shopping Centre
In This Location
---
With These Tags
---