11566 Fraser Street at 116 Avenue, Maple Ridge
Developer:

Whitetail Homes
Sales Status:

Inquire for details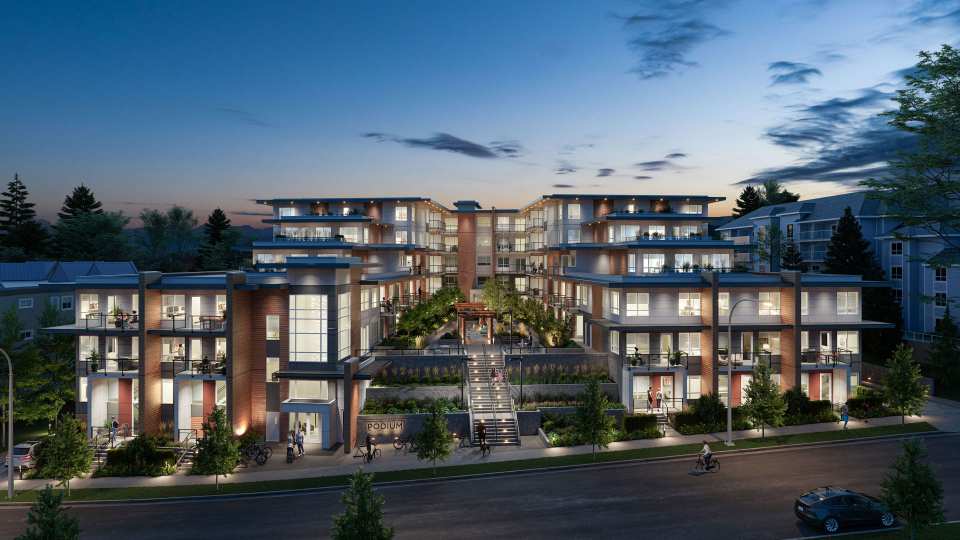 Podium Maple Ridge Overview
Podium Maple Ridge, developed by Whitetail Homes, promises a harmonious blend of modern architecture and natural beauty in the heart of Maple Ridge. This 6-storey wood frame building offers 120 condos and 5 townhomes, each echoing elegance and functionality.
Location and Connectivity
Located next to the Port Haney Historic Walk, Podium Maple Ridge is a stone's throw from Maple Ridge's rich history. Residents are a 4-minute walk from City Centre's vibrant restaurants, shops, and services. Haney Place & Valley Fair malls are nearby, ensuring shopping convenience. With the West Coast Express just 9 minutes away and the R3 RapidBus at Haney Place close by, commuting is seamless. Nature enthusiasts are a short drive from Kanaka Creek Regional Park and Alouette Lake recreation.
Architectural Brilliance
The West Coast modernist design of Podium Maple Ridge stands out with its strong lines and robust pillars. The U-shaped, terraced layout houses five 3-bedroom townhomes and 120 condominiums in 1- and 2-bedroom floorplans. Amenities include wellness gardens, a landscaped perimeter pathway, a children's play area, a gym & yoga studio, and two rooftop patios. An underground garage caters to parking needs with space for 225 vehicles and storage for 37 bicycles.
Interiors and Design
Interiors at Podium Maple Ridge are a blend of simplicity and modern glamour. Kitchens feature quartz counters, stainless steel appliances, and chrome fixtures. Open-concept living areas are accentuated by 9′ ceilings, wide windows, plush carpets in bedrooms, and textured laminate in communal spaces. Bathrooms, with their marble tiles and contemporary fixtures, exude luxury.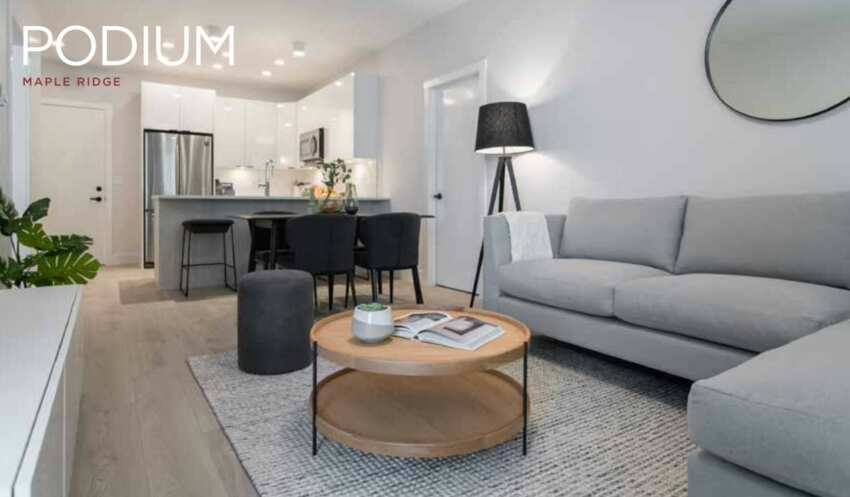 Amenities at Podium Maple Ridge
Residents can relax in the wellness gardens, walk the well-lit perimeter paths, or let their children play in the central courtyard playground. Two rooftop patios offer panoramic views, and the gym and yoga studio cater to fitness needs. The development also emphasizes sustainability with EV charging stations in the parking area.
Pricing and Availability
Contemporary condos starting at $689,900 at Podium Maple Ridge. The development offers a variety of units, from 1- & 2-bedroom condos to 3-bedroom townhomes. Potential buyers are encouraged to inquire about detailed floor plans and availability.
About the Developers
Whitetail Homes, established by Luc Gosselin in 2016, is a trusted name in the Fraser Valley. Their commitment to quality is evident in projects like Genesis, The Wesley, and The Georgia. Collaborating with them is Bissky Architecture, a firm with over 25 years of experience, known for sustainable and community-centric designs.
Completion Date
Podium Maple Ridge is set to welcome its residents by June 2024. For those exploring housing options in Pitt Meadows, Maple Ridge, or Mission, the Fraser Valley region offers a plethora of choices.
Bike storage & storage lockers
1, 2 & 3 bedroom condos & townhouses
2-levels underground parkade + EV charging
Wellness gardens, landscaped pathways, seating areas w/ tables, central courtyard w/ kid's play area, 2 rooftop patios, ground-floor gym & fitness studio
Kanaka Creek Regional Park, Golden Ears Provincial Park
Short walk to West Coast Express
Wellness gardens, landscaped pathways, seating areas w/ tables, central courtyard w/ kid's play area, 2 rooftop patios, ground-floor gym & fitness studio
Close to k-12 schools, parks, community centre; Next to Port Haney Historic Walk; Near Haney Place and Valley Fair mall; Close to several downtown restaurants, shops & grocers; Not far from Alouette Lake recreation & Kanaka Creek Regional Park
In This Location
---
With These Tags
---
Downtown Maple Ridge
,
Maple Ridge Condo Presale
,
Maple Ridge Condos
,
Maple Ridge New Condos
,
Maple Ridge New Development
,
Maple Ridge New Homes
,
Maple Ridge New Homes Preconstruction
,
Maple Ridge New Presale
,
Maple Ridge Preconstruction Development
,
Maple Ridge Presale
,
Maple Ridge Presales
,
Maple Ridge Townhomes
,
Maple Ridge Townhouses