Marie Place & Crown, Lynn Creek Town Centre, North Vancouver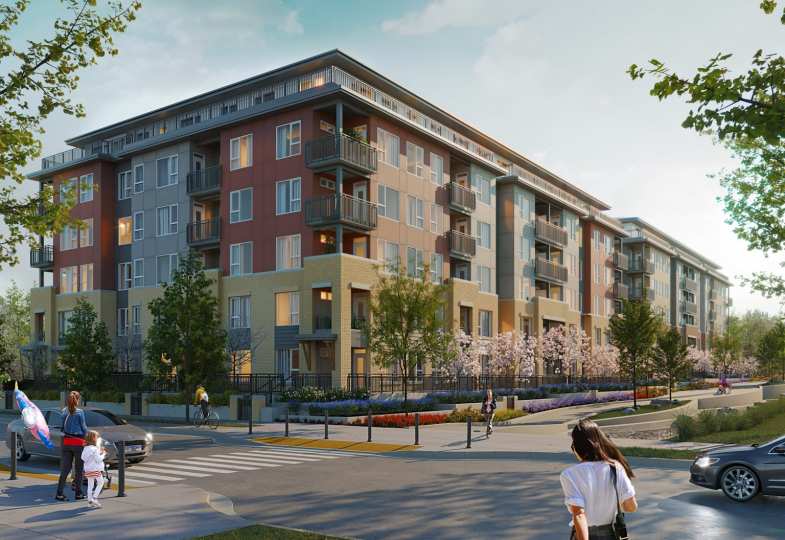 Ashton is a North Vancouver presale condo situated in the heart of Lynn Creek Town Centre. This project is brought to life by Fairborne Homes, a Vancouver-based development company known for its award-winning projects. Ashton North Vancouver comprises 140 condominiums housed within two 6-storey West Coast contemporary-style buildings. These buildings are designed in compliance with the BC Energy Step Code (Step 3), reflecting a commitment to reducing the carbon footprint.
Ashton North Vancouver Floor Plans
The condominiums at Ashton North Vancouver offer a variety of floor plans, ranging from 1- to 3-bedroom layouts. The interior living space spans from 534 to 1,135 square feet, catering to diverse lifestyle needs. Ground-level units are designed with private entries and patios, enhancing the sense of individuality and privacy for residents. Each home is equipped with a bike and storage locker located on the same floor, promoting a healthy, zero-emissions transportation alternative.
Ashton North Vancouver Pricing
Anticipate the following price range for the presale in the Summer of 2023:
One-bedroom units starting from the lower $600K range
One-bedroom units with dens beginning from the middle $600K range
Two-bedroom units starting from the upper $700K range
Please be aware that the pricing for Ashton North Vancouver is subject to alterations at any given time.
Ashton North Vancouver
Ashton's design features premium finishes, including stainless steel appliances, quartz countertops, and durable laminate flooring throughout. The state-of-the-art appliances with smart technology, innovative storage solutions, and stylish finishes create an appealing kitchen setting. The modern vanity in the bathroom offers ample storage and is paired with a rainfall showerhead and a hand-held fixture, providing a luxurious bathing experience.
The development offers a range of amenities to enhance the living experience. Indoor amenities include a social lounge, a co-working room equipped with a conference table and individual offices, and a designated dog wash area for pet owners. Outdoor amenities are also a part of the plan, with Fairborne Homes providing land to expand Marie Place Park next door.
Central North Vancouver Location
Ashton is part of the broader redevelopment of Lynn Creek Town Centre near Marie Place Park. This transit-oriented community is conveniently located near employment opportunities, parks, shopping centers, and a plethora of recreational activities. A new 3-storey community center, including a daycare with an outdoor playground, is planned. Marie Place Park, adjacent to Ashton, will be expanded and enhanced, while Seylynn and Bridgman parks are set for redesign and upgrade.
Parking and Lockers at Ashton
The development also ensures ample parking facilities. Two levels of underground parking will accommodate 161 vehicles, including 14 visitor spots. All parking spots come equipped with a Level 2 EV charger, encouraging the use of electric vehicles. A shared pickup/drop-off area will be located off the lane, near the building entries.
Ashton Maintenance Fees
The maintenance fees at Ashton are set at $0.59 per sq ft per month. The development team behind Ashton includes Engage Architecture, a full-service architecture firm based in Vancouver, and Jade Design Group, a multi-disciplinary interior design firm specializing in both single- and multi-family projects.
Ashton North Vancouver Expected Completion Date
Ashton is expected to be completed by mid-2026. This development represents a unique opportunity for those seeking a blend of contemporary living, convenience, and commitment to sustainability in the vibrant community of Lynn Creek, North Vancouver.
Lynn Creek Town Centre
Lynn Creek Town Centre, located in North Vancouver, is an emerging neighbourhood that Ashton North Vancouver is located in that is gaining recognition for its transit-oriented, mixed-use community design. The town centre is being developed with a wide range of housing options, catering to people at all stages of life. This strategic development is part of the District of North Vancouver's plan to create key centres that are accessible, vibrant, and sustainable.
The centrepiece of Lynn Creek will be a 27,000 sq. ft. community centre and daycare, which is currently under construction. This facility will serve as a hub for community activities and services, further enhancing the appeal of the area.
Lynn Creek Town Centre's development is not just about buildings; it's also about creating a community where families can enjoy a forest setting for play and picnics. This balance of urban living and natural beauty is part of what makes Lynn Creek Town Centre a sought-after neighbourhood in Metro Vancouver.
161 vehicles with Level 2 EV chargers for each stall
Bridgeman Park, Seylynn Park
In This Location
---
With These Tags
---