Abbott Street & Cedar Avenue, Kelowna
Sales Status:

Inquire for details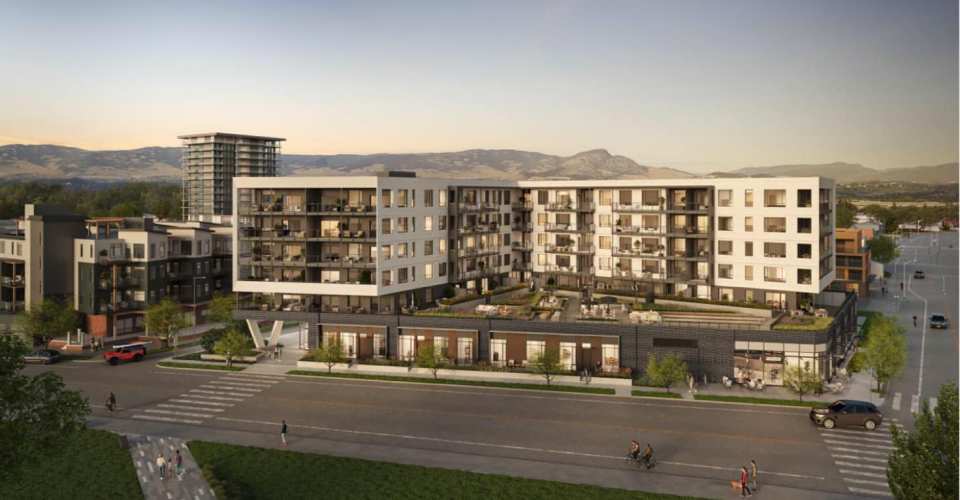 Alma in Kelowna
Alma on Abbott is a new developments Kelowna has to offer from Mission Group, located in Kelowna's Pandosy neighbourhood at the intersection of Abbott Street and Cedar Avenue. The 6-storey building features four commercial units on the ground floor and three townhomes surrounding a 2-level garage. The garage provides storage for 83 bicycles and parking for 101 vehicles, with additional visitor parking along the lane. Above the ground floor, there are five floors of condominiums in an L-shaped configuration, offering a selection of studios and 1- to 3-bedroom homes. The floor plans range from 316 to 1,246 sq ft of interior space.
Amenities and Location
The development boasts shared amenities on Level 2, including a multi-function room and an adjacent terrace that features lounge spaces and outdoor dining areas with sweeping lake views. The location of Alma is particularly attractive, with the new Pandosy Waterfront Park as your front yard, where the Kelowna Paddle Trail and Abbott Active Transportation Corridor converge. The park, completed in June 2023, offers beaches, pedestrian promenades, picnic spots, basketball hoops, a public pier, and an accessible kayak launch. This development offers a serene environment, enriched by the surrounding greenspace and the historical essence of the neighbourhood. In essence, Alma promises a harmonious blend of nature and urban life, allowing residents to experience life at their desired pace.
South Pandosy District
The South Pandosy district is known for its urban, walkable lifestyle. Cafés, pubs, boutique shops, and restaurants are all within a short stroll or bike ride. For daily household needs, Mission Park Shopping Centre is only a 7-minute walk away on Lakeshore Road. Downtown Kelowna, with its diverse dining options and cultural venues, is a short 6-minute drive away, as is the Mission Creek Golf Club. The vineyards of South Kelowna are also a quick drive east.
Alma In Kelowna Proposed Deposit and Starting Prices
Studio (A1, East): Mid $300k
1 Bedroom, 1 Bath (B1, East): Mid $500k
1 Bedroom & Den (B2, Southwest): Mid $600k
2 Bedroom, 1 Bath (C1, Northeast): Mid $600k
2 Bedroom, 1 Bath (C2, Southeast): Low $700k
2 Bedroom, 2 Bath (C3/C5, West): Mid $800k
2 Bedroom, 2 Bath (C4, North): Mid $700k
2 Bedroom & Den (C6, North): Mid $900k
2 Bedroom & Den (C7, South): Low $1.1M
2 Bedroom & Den (C7, West): Low $1.2M
2 Bedroom, 2 Bath (C8, Northwest): Mid $1.0M
3 Bedroom, 2 Bath (D1, Southwest): Mid $1.2M
3 Bedroom & Den (D2, Southwest): High $1.2M
Townhome (TH1-3, West): Low $1.2M
Alma in Kelowna properties require an initial 10% deposit is required, with an additional 5% due six months after building permit notification. Home options include engineered hardwood, heated bathroom floors, custom closets, and quartz backsplashes. Additional amenities range from bike racks at $750 to extra parking stalls at $65,000, with EV infrastructure pricing pending.
Unit Mix and Floor Plans
The unit mix for Alma includes 10 studios (316 – 347 sq ft), 24 1-bedroom units (531 – 648 sq ft), 43 2-bedroom units (718 – 1,075 sq ft), 10 3-bedroom units (1,115 – 1,140 sq ft), and 3 townhouses (1,134 – 1,246 sq ft).
Development Team of Alma In Kelowna
The development team for Alma in Kelowna includes Mission Group, a Kelowna-based company specializing in residential & commercial real estate development and construction, and GBL Architects, a Vancouver-based firm known for its green design practices. The expected completion date for Alma is yet to be announced.
Secure storage lockers available
Studios & 1- to 3-bedroom condos & townhomes
2-level parking above ground
Level 2 rooftop amenities & indoor shared amenity room
Level 2 rooftop amenities & indoor shared amenity room
Pandosy Waterfront Park; South Pandosy cafés, pubs, boutique shops, restaurants; Mission Park Shopping Centre; Downtown Kelowna amenities; Mission Creek Golf Club; local wineries
In This Location
---
With These Tags
---