Real Estate Outlook Vancouver 2021 – June Webinar
Vancouver Market Update: June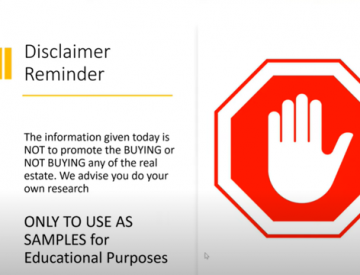 Market update
May 2021 listings were 187% higher than the same month last year, but there was also a 13% decrease in homes sold from the prior month.
When the sales-active listing ratio is below 12%, analysts believe prices will trend downward. When the ratio is above 20%, prices should trend up. Here's where we're at:
We see that in May, the numbers are going down but this doesn't mean the prices are going down. This is because the sales-active listing ratio is above 20%, so prices are trending up (even though the numbers of those listings have gone down).
What's our conclusion? The 2021 real estate market in Vancouver will continue to rise.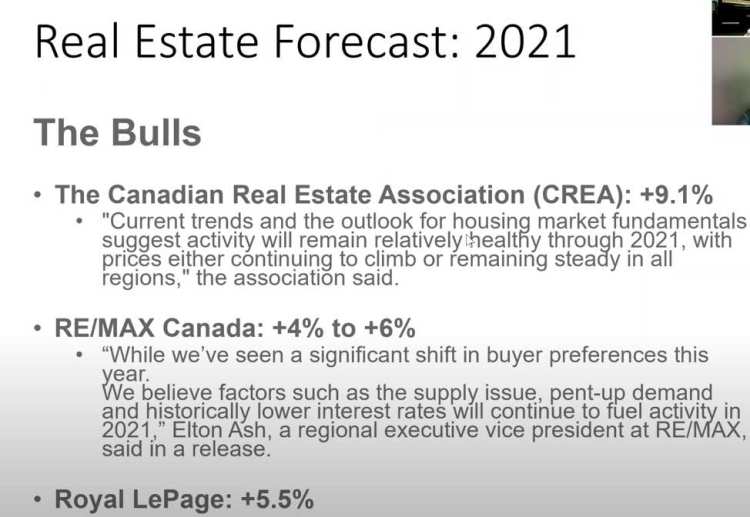 As you can see, the CREA, RE/MAX, and Royal LePage are predicting this too and they're showing the signs are correct. 
What is happening with real estate activity, buyers, and sellers?
I broadly agree with all of this, and we're seeing the same thing. There's an easing of the intense activity that we saw earlier this year. It still is a seller's market and there are buyers out there. You can still get a five-year fixed rate mortgage for under 2% which is fantastic. There's some good market action, and it's actually almost a perfect market because:
For buyers, there's a lot of good properties out there because sellers know they can get a good price.

For sellers, they can get a good price for their property if they'd decided to wait.
It's not as intense for buyers and sellers because if there's a multiple offer situation, you're not seeing 10, 15 or 50 offers – it's about 3-5, maybe 8 only if it's a really hot property priced very aggressively. The real estate market across the Lower Mainland and the province is made up of micro-markets. For example, if you're talking about the city of Vancouver, what's happening with downtown condos over $1 million will be a totally different situation than what's happening with single-family houses in East Vancouver or on the west side of Vancouver. That's because the people buying them have totally different income levels and goals.
In terms of high-density urban properties, we still have the COVID-19 hangover, where people still feel uncomfortable being in lobbies, elevators, close proximity to other people at restaurants, bars, and gyms. The reason why we like dense urban neighbourhoods is to be close to and around other people, but people aren't comfortable with that yet. So, a lot of high-end urban properties are still struggling, especially those at the $1-1.2+ million mark. But, I think that will change dramatically when the borders reopen.
We got 185,000 new people in Canada in 2020 which is a very low number. It accounts for all the foreign students, PRs, etc. but no new people are coming because the borders are closed. When they reopen, I think we'll see a huge surge in urban properties because when people come to a new country, they typically get an apartment in the core as they learn the rest of the city. They typically rent first and eventually buy – those moving out of rentals are usually buying. So, I think we'll see a huge uptick in activity since the Federal Government said they want 400,000 new people in Canada in 2022 which is significantly higher than what we have before COVID-19 and way higher than what we had during COVID-19. And, a good portion of those people will come to the Vancouver area. We're already running into housing supply issues which you can see from rising prices and homelessness. And we have city governments across the region that aren't too responsive to the needs of homeowners. They're not making enough market or rental housing or social or supportive housing for people with special needs or addiction or homeless issues. So, we'll see prices increase for quite some time. 
What's pricing like? Do we need to go for asking or over-asking? Is it even possible to get anything under-asking right now?
 You can get stuff under asking. If it's a property that is overpriced, messy or dirty but you can see beyond that, doesn't present well, or has an uncooperative tenant making it difficult to show, you can definitely negotiate.
Do we still need to go in without subject to sale or inspection, or is that environment done as well? 
Subject to sale is challenging in this market. You can do it with a property that has something wrong, like if it's ugly, messy or dirty. But, for beautiful properties with lipstick on them, don't bother with a subject to sale. Something that's beautiful and presented and priced well will probably mean going in subject-free. You'll be competing but not as crazy as before. The key with subject free is to do your due diligence before. Get the inspection done, read the documents, get the information to your bank. Be safe because there's risk with a subject-free process. 
I'm dealing with clients who had to make an aggressive offer with dates that didn't match – so they're either homeless for a couple of months or carrying two mortgages for a couple months. Are people taking offers that can close sooner even if they're not the highest?
Yes. No matter what the market's doing, one of the most important things you can do as a buyer is be prepared. If you've talked to your bank, you know when you can move or give notice, and you know exactly what you can do before you get into a situation or negotiation, you'll be so much better off. Maybe then you can tell a seller your financing subject is just three days because everything is ready to go. Or, if you can move in two weeks or six weeks, a seller might take a lower offer because they have different needs, just like buyers.
What do you think will happen this summer in the market? 
We may see some cooling in the market for three reasons:
When the weather's warmer, people just stop looking for properties. They want to enjoy their summer.

People will start travelling, maybe not internationally but within the province.

The market is slowing down right now and it could continue as is typical in the summer.
But, it's anyone's guess. The mortgage stress test may slow things down later in the summer, but it's difficult to say. Once those borders open, things will go crazy. I personally think the government coordinated the stress test with the opening of the border because typically a change in mortgage rules has an effect 3-5 months after it's brought in because it's affecting new people. The people buying properties right now started talking to mortgage brokers 3-5 months ago and are already going. The people affected by the stress test will be buying 3-5 months from now since they're just talking to a broker now. They'll afford less which may slow the market down. I think the government is trying to slow things down in advance of the big surge in demand for real estate when the borders open up. 
Since the summer's a cooling market, do you think now's a good time for people to offer, say, 97% of asking on properties that have been sitting around for a while?
When I say cooling market there's less activity, not necessarily prices going down. When there are fewer buyers and less competition, it gives buyers relative strength vis-a-vis a seller in terms of market power and what they can do. If it's late August and everyone's away at the beach, you might see a house that nobody else has. You want to move when other people are fearful and holding back. That's how you'll get the best deals.
If someone was not in a rush to sell and activity slowed down without many buyers, would you suggest pulling the listing until September or October? 
Yes. Often, a re-list after Labour Day is best to get a good result because a lot of people are away up until then. 
For good buyer or investor opportunities, are there specific areas you're liking right now?
Downtown Vancouver is very slow, but the issue with it is your cap rates or percentage per year return for rent, is so low that it doesn't make sense for investors. Right now the investors we're working with are doing well in places like the Okanagan. My business partner just bought a three-unit house there that cash flows to $800 per month or something like that. The Fraser Valley is doing really well with single-family houses and condos. We're seeing significant capital appreciation in both areas. The city of Vancouver and Greater Vancouver is a challenge for investors because the cap rates are so low.
So, it's a challenging market for investors looking for revenue but the potential upside for capital appreciation is huge because we have so much population growth and city governments throughout the region that are not into creating new housing supply.
What about people who are or aren't interested in moving to the downtown core, not investing? Are you saying there are better deals for those who want to occupy the place?
Absolutely. There are great options for owner-occupier places downtown. It's quiet. If you want to get really good value, just lowball stuff until you find someone who wants to sell. 
I wanted to share some statistics. In March, if you look at the one-month change in Vancouver and compare it to April, you start to see more around 1-3%. Then in May, we're into more like 1-2%.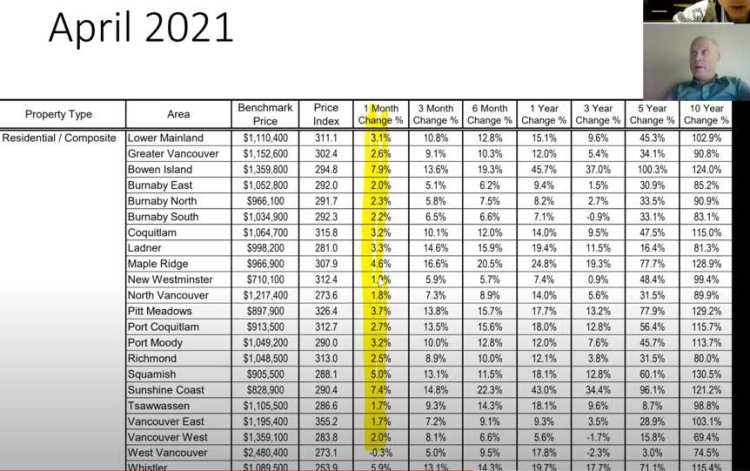 This shows that yes, prices are going up month to month, but we're finding the pace is slowing. It's still going up, just slower. 
Detached homes vs. condos are very similar, but you don't see the one-month change being negative or zero.
So, I believe with the border reopening plus the summer, we'll have a slowdown. It might be a great opportunity, especially if you're not a seller or a first-time or lower-priced buyer. The stress test doesn't affect everyone – many people can still afford what they intended on buying. Keep an eye on what's out there now and if it's still around in the summer – there are often price reductions when things don't sell. 
When I bought my first townhome 16 years ago, we saw two identical places but one was $20,000 more and in a slightly better location, which sold. At the end of the summer, the other one was still for sale. We put in a very reasonable, below-asking offer and got it. So, keep an eye out.
How long does it take for things like the stress test or government change, to really make its way into the market where we feel it? The interest rates are starting to move.
Usually about 3-6 months. But again, the stress test isn't always a factor. Sometimes it can, but I've found many times it doesn't have an effect – it really depends on what's going on in the market. 
The other thing for investors is if you can get a mortgage that supports itself, even cash-flowing mildly, at under 2%, the amount of principal repayment is absolutely unprecedented. If you want to invest in Vancouver real estate because you feel you'll do well with capital appreciation, as so many do so often, this is a great investment strategy. It might take 20% down but you'd buy something, let the tenants pay it down, and sell when it's increased in value. You'll have built up tons of equity when you sell just from the tenants.
That's great, plus sometimes people forget about taxation. If I take my $200,000 and put it in the stock market, there's no tax benefit. If that same $200,000 goes into an $800,000 mortgage, the interest is deductible.
Don't try to time the market. Get what you can afford, whether you're a buyer or seller. It's unpredictable and I wouldn't be surprised if it started to go up.

Short-term market predictions: the summer will cool the market, especially with COVID restrictions lessening. But, 2021 is still a year of growth for the Vancouver market. We haven't seen a statistic or piece of information that leads us to think it won't continue to go up.

 
What am I doing with my clients? I review my clients' strategies and try to help them take advantage of opportunities in a very safe way.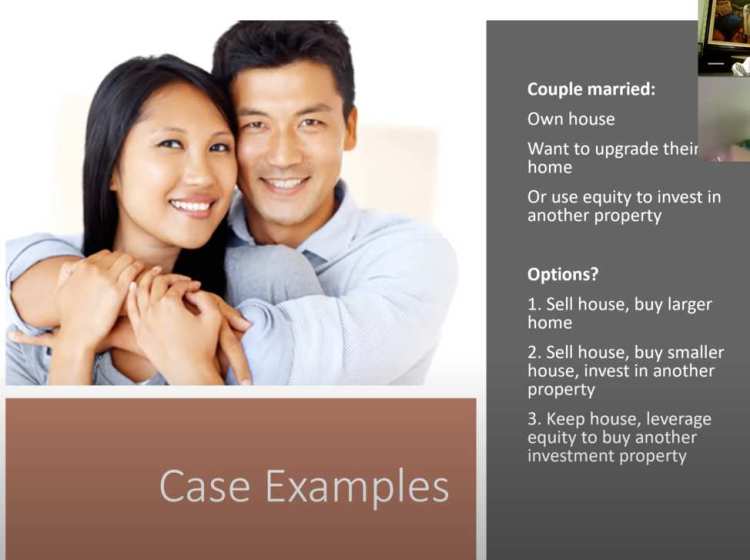 Here's a case study of a perfect example of how I help my clients. There is no correct choice without an analysis on all three scenarios. People often think about that but they don't know how to do it themselves. This is a hundreds of thousands of dollars decision when it comes to retirement. You don't want to make a mistake. So, you can get professional help, like from me and my team.
Here's what we do: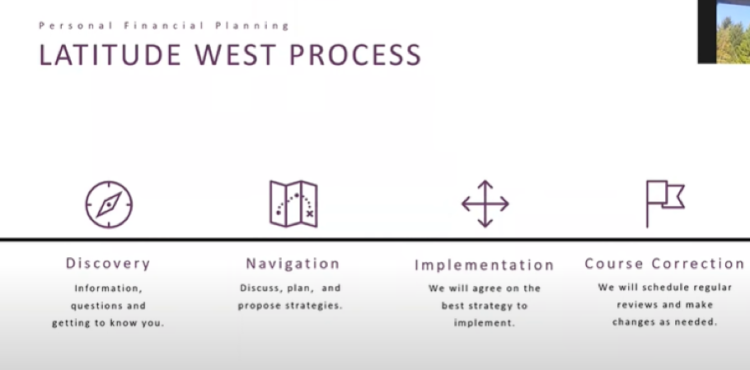 The discovery meeting is complementary. If you decide to work with us, I would do a cost-benefit analysis to show you what it would look like if you bought a second or third property and what it would look like if you didn't.
For example:
Studies show that when you use an advisor, your wealth multiplies significantly over time.