Grange St & Halley Ave, Metrotown
Developer:

Qualex-Landmark
Sales Status:

Inquire for details
Artesia Metrotown: A New Dimension of Living in Burnaby
Nestled amidst a vibrant backdrop, the Artesia Metrotown development stands as a beacon of modern living. This 31-storey presale condominium tower in Burnaby is developed by the renowned Qualex-Landmark and is strategically positioned on the serene side of Metrotown, bordered by a trio of lush parks.The Artesia Metrotown complex boasts a total of 247 market strata homes, which includes two 2-storey townhomes and 245 condos. Artesia Metrotown is not just a place to live; it's a lifestyle. With its prime location, top-notch amenities, and the promise of a luxurious living experience, Artesia is truly a gem in the heart of Burnaby's Metrotown.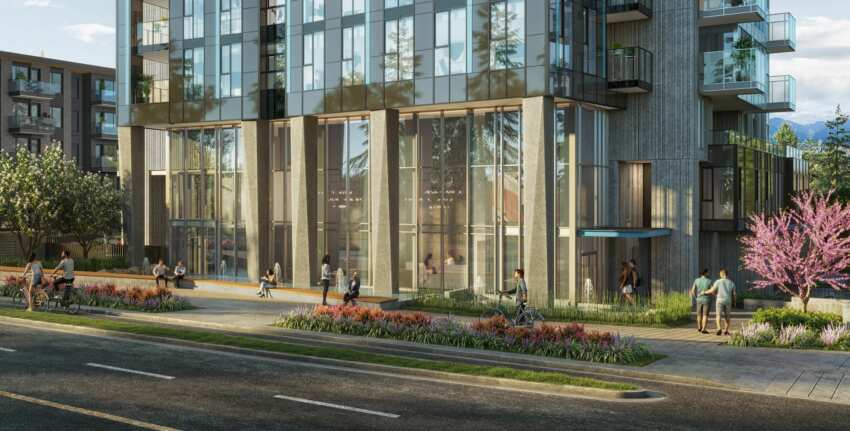 Lifestyle and Amenities
But Artesia is not just about homes; it's about a lifestyle. Over 17,000 square feeet of amenities ensure residents have a harmonious blend of work, rest, and play. From a state-of-the-art fitness centre, which includes a gym, yoga studio, and sauna, as well as, a dedicated music room, a lively party room with a full kitchen, Artesia Metrotown promises a life of luxury and convenience.
Amenities at Artesia are designed with the modern resident in mind. The outdoor space is equally impressive, featuring 12,600 square feet of green space with a patio, children's play area, and an open lawn perfect for social gatherings. On the 27th floor find a special multi-event room with a spacious balcony and a gorgeous view – perfect to book for social gatherings.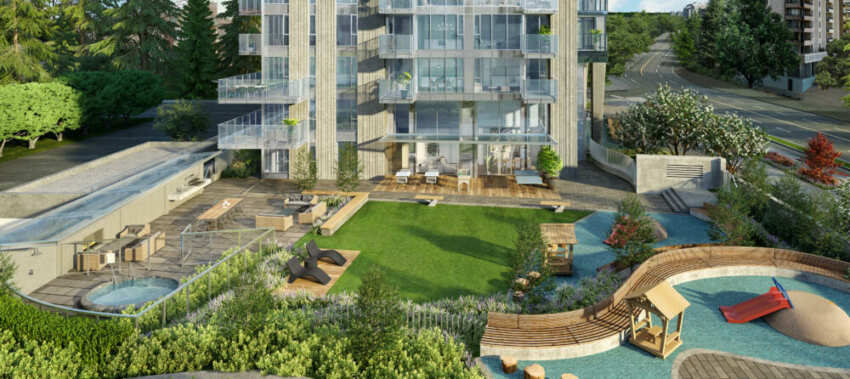 Prime Location
Location is key, and Artesia doesn't disappoint. A stone's throw away is the Central Park, offering a plethora of recreational activities like forested trails, tennis courts, and an outdoor pool. For the urban dweller, the Old Orchard Shopping Centre, Crystal Mall, and a myriad of restaurants along Kingsway are within easy reach. Moreover, the Patterson Station is just a 7-minute walk away, making the vast Metrotown shopping and entertainment hub just one SkyTrain stop away.
Pricing, Deposit and Completion Date
Available Residences With Amazing Views:
Southwest 1 Bedrooms with storage from $668,000
East & West 1 Bedroom + Flex with parking & storage from $782,000
Southeast 2 Bedrooms with parking & storage from $1,050,000
Vista Collection with parking & storage from $1,248,000
Just 15% deposit over one year. Expected completion late fall 2025 and sales start fall/winter 2021. 
Floor Plans
Sales for Artesia Metrotown are set to commence in the fall/winter of 2021. The development offers a selection of two townhomes and 245 condominiums, with a significant portion being adaptable units. These units come in various configurations, including 1-bedroom, 1-bedroom + den, and 2-bedroom + den layouts. For those seeking a touch of luxury, the 2-storey townhouses facing Halley Avenue are the epitome of upscale living. You can find floorplans & views here.
Parking and Transportation
Parking is ample, with four levels of underground parking, storage space for bicycles, and EV charging outlets for every residential space. Alternative transportation options, such as share bikes and subsidized transit passes, may also be available.
The Team Behind Artesia Metrotown
Behind Artesia Metrotown is a team of industry leaders. Qualex-Landmark, with over 20 years of experience, is known for its boutique residences and impeccable homeowner care. The architectural brilliance is credited to Ramsay Worden Architects, while the interiors are crafted by the talented BYU Design.
Studio, 1, 2 & 3 bedrooms from 488 - 1,264 sf
4-level underground parkade
17,000+ sf amenities - fitness centre, yoga studio, sauna, music room, party room, kitchen w/ dinning area, kid's play area, guest suites, event room w/ balcony & a large landscaped courtyard
Short walk to Patterson SkyTrain Station
17,000+ sf amenities - fitness centre, yoga studio, sauna, music room, party room, kitchen w/ dinning area, kid's play area, guest suites, event room w/ balcony & a large landscaped courtyard
Metropolis at Metrotown shopping, dinning, coffee shops, services & entertainment; Near Crystal Mall & Kingsway restaurants; Close to Old Orchard Shopping Centre;Close to Burnaby Public Library & Bonsor Recreation Complex; 20 minutes via SkyTrain to downtown Vancouver
In This Location
---
With These Tags
---
burnaby
,
Burnaby Condo
,
Burnaby Condos
,
Burnaby New Condos
,
Burnaby New Developments
,
Burnaby New Homes
,
Burnaby New Presale
,
Burnaby Presale
,
Burnaby presale condos
,
Burnaby Presales
,
Burnaby Public Library
,
Burnaby Townhomes
,
Burnaby townhouses
,
Central Park
,
Metrotown Mall
,
Metrotown Skytrain Station
Warranty
---
New homes in BC are covered by warranty… Read more
7 Day Rescission Period BC… Read more